The university will hold its undergraduate commencement at Webster Bank Arena in Bridgeport. Doors open at 8:45 a.m. Academic procession begins at 10:15 a.m.
Friday, May 24, 2019
Webster Bank Arena
600 Main Street, Bridgeport
Important Commencement Travel and Parking Update
Commencement Guides
For all of the details regarding commencement participation, please print out and review one of the guides and a Directions/Parking Map.
Senior Survey
Each graduating student must complete a short survey before they can pickup their reader card and guest tickets.  Log in with your SCSU credentials to complete the survey.
Guest Tickets Distribution and Candidate Reader Card
Students eligible to participate in commencement include students who have completed their degree requirements in fall 2018 and winter 2019 and students who applied for a spring 2019 and summer 2019 degree with the Registrar's Office and have more than 100 credits earned (including in-progress credits).
Tickets will be distributed to students in person with their SCSU I.D. in the Adanti Student Center. Each candidate will receive up to four guest tickets. If you do not need all four tickets, please leave them so that others may use them.
All guests are required to have a ticket.
All guest seating is unreserved.
All candidates must have a commencement reader card for admittance to the garage assembly area. This card will include the name of your school.
Senior Send off
Thursday, May 9, 11 a.m. to 12 p.m., Lyman Center 
Join your fellow graduates, faculty, and staff for a special program to reminisce about your time at Southern followed by a celebratory barbecue in the Academic Quad.
Ticket and Reader Card Distribution Schedule
Thursday, May 9, noon to 1:15 p.m. - Adanti Student Center Ballroom Pre-Function area
1:30 p.m. to 6 p.m. - Adanti Student Center Information Desk
Friday, May 10, 8 a.m. to 3 p.m. - Adanti Student Center Information Desk
Saturday, May 11, 8 a.m. to noon –  Adanti Student Center Information Desk
Eligible students participating in commencement must pick up their reader card and guest tickets by May 11.
Tickets not picked up by Saturday, May 11 will be distributed to others seeking additional tickets for the ceremony.
Additional tickets can be requested as part of the pick up process. If additional tickets are available, students who requested tickets will be notified by email regarding the distribution date.
Caps and Gowns
Candidates for the bachelor's degree must purchase a cap and gown at the university bookstore in order to participate in the ceremony.  Caps and gowns will be available beginning Monday, April 8th.
Commencement Speaker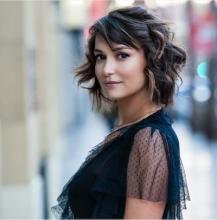 Milana Vayntrub, actor, activist and humanitarian, will be the keynote speaker at the  Undergraduate Commencement ceremony on Friday, May 24, at the Webster Bank Arena, in Bridgeport. The ceremony begins with an academic procession at 10:15 a.m.
Many know Milana Vayntrub, as saleswoman Lily Adams in AT&T's popular series of commercials, or as Sloan from This Is Us on NBC. But she also has a  compelling story as a n ex-refugee and advocate for combatting the global refugee crisis.
At the age of two, Vayntrub fled religious persecution in Uzbekistan with her parents to make a home in America. Twenty-five years later, she co-founded the grassroots #CantDoNothing organization, created to encourage others to give their time, money, and voice to assist refugees worldwide. 
An Upright Citizens Brigade-trained comedian, Vayntrub has appeared on TV and the big screen, including on Showtime's House of Lies and HBO's Californication, as well as in Ghostbusters and Life Happens. She was also cast in the role of Squirrel Girl in Marvel's 2018 series, New Warriors, on Free Form.
In 2016, Ms. Vayntrub was named among the top 100 thinkers, makers, and doers in marketing and media by Adweek, which described her as a "creative force for good." 
Live Stream