Undergraduate students at Southern can complete their bachelor's and master's degrees in a combined five years in a variety of majors as part of a package of accelerated programs. The pathway enables students to shave a full year off the time that it generally takes to finish, saving students a full year's tuition and expenses.
The programs typically enable students to replace 6 to 12 credits of undergraduate electives with graduate-level courses in their major during their senior year. Students are encouraged to apply for acceptance into an accelerated program during the spring semester of their junior year.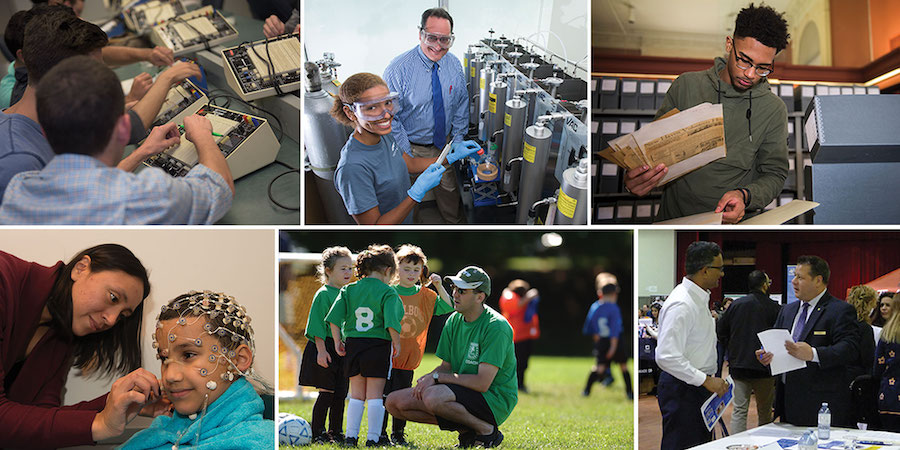 The following pathway programs are the only programs within these subjects available in the Connecticut State Colleges and Universities (CSCU) system.
Anthropology to TESOL, B.S. to M.S. 
This interdisciplinary program offers the opportunity for students to complete a bachelor's and master's degree in five years, and gain expertise in two fields of study: Anthropology and Teaching English to Speakers of Other Languages. Graduates are prepared for careers in teaching English as a foreign language at schools and universities all over the world. 
Chemistry, B.S. to M.S.
This flexible program provides students with the opportunity to explore the five main branches of chemistry: organic, inorganic, analytical, physical, and biochemistry.
Computer Science, B.S. to M.S.
This program is designed for those seeking a career in cybersecurity, network administration, consulting, hacking, as well as those who are interested in pursuing a Ph.D.
History 7-12, B.S. to M.S.
Students perfect their skills for the practice of teaching. Course selections are provided in American, European and Non-Western History. This degree also provides preparation for doctoral-level education.
Psychology, B.S. to M.S.
Students begin graduate-level coursework in their fourth year of study, providing an opportunity for high-level research earlier in their academic career, advanced career preparation, and expedited degree completion. This program provides extensive preparation for doctoral-level education.
Physical Education to School Health Education, B.S. to M.S. 
This contemporary program prepares students to teach, lead, coordinate and advocate for physical education and school health education programs for children and youth in grades Pre-K through 12. Students will gain the professional knowledge and skills necessary to become a certified physical education and health education teacher.
Recreation and Leisure Studies, B.S. to M.S.
A combination of didactic coursework and practicum experience equips students to work in both clinical and non-clinical settings. This program prepares graduates to meet the requirements of the National Council for Therapeutic Recreation Certification (NCTRC).
Sport and Entertainment Management, B.S. to M.S.
This degree includes a practicum component, giving students hands-on experience, career exploration, and networking with regional professionals for future employment. Students choose a specialization in Sports Management, Entertainment Management, or Athletics Administration.