Undergraduate students at Southern can complete their bachelor's and master's degrees in a combined five years in a variety of majors as part of a package of accelerated programs. The pathway enables students to shave a full year off the time that it generally takes to finish, saving students a full year's tuition and expenses.
The programs typically enable students to replace 6 to 12 credits of undergraduate electives with graduate-level courses in their major during their senior year. Students are encouraged to apply for acceptance into an accelerated program during the spring semester of their junior year.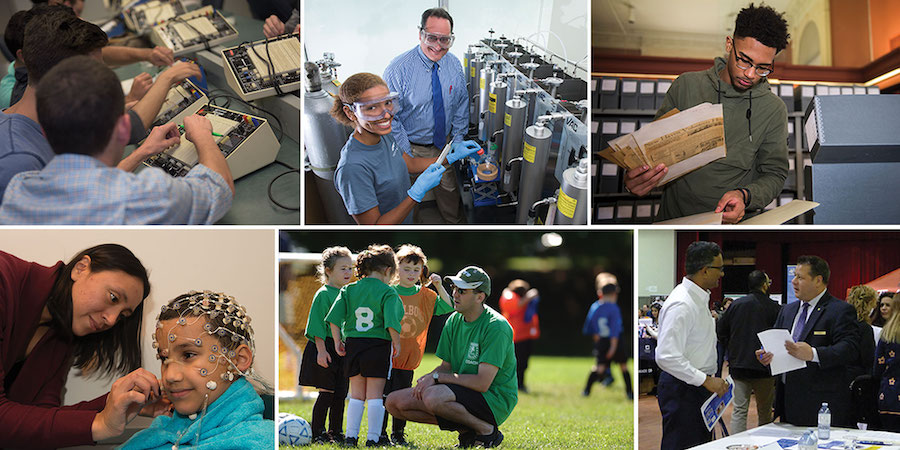 The following pathway programs are the only programs within these subjects available in the Connecticut State Colleges and Universities (CSCU) system.
| | |
| --- | --- |
| Program | Department |
| Anthropology, B.S. - Bilingual Multicultural Education (TESOL) M.S. Accelerated Pathway | Anthropology |
| Athletic Training, B.S./M.A.T. Accelerated | Health and Movement Sciences |
| Biology, B.S. - BS to MS Accelerated Pathway | Biology |
| Business Administration, B.S. - Marketing M.B.A. Accelerated Pathway | Marketing |
| Chemistry 7-12, B.S. - M.S. Accelerated Pathway | Chemistry and Biochemistry |
| Chemistry, B.S. - Biochemistry M.S. Accelerated Pathway | Chemistry and Biochemistry |
| Chemistry, B.S. - Environmental Chemistry M.S. Accelerated Pathway | Chemistry and Biochemistry |
| Chemistry, B.S. - General M.S. Accelerated Pathway | Chemistry and Biochemistry |
| Computer Science, B.S. - Cybersecurity M.S. Accelerated Pathway | Computer Science |
| Exercise and Sport Science, B.S. - Allied Health - Clinical Exercise Physiology M.S. Accelerated Pathway | Health and Movement Sciences |
| Exercise and Sport Science, B.S. - Allied Health - Human Performance M.S. Accelerated Pathway | Health and Movement Sciences |
| Exercise and Sport Science, B.S. - Allied Health - Physical Activity and Chronic Disease M.S. Accelerated Pathway | Health and Movement Sciences |
| Exercise and Sport Science, B.S. - Sport Science - Clinical Exercise Physiology M.S. Accelerated Pathway | Health and Movement Sciences |
| Exercise and Sport Science, B.S. - Sport Science - Human Performance M.S. Accelerated Pathway | Health and Movement Sciences |
| Exercise and Sport Science, B.S. - Sport Science - Physical Activity and Chronic Disease M.S. Accelerated Pathway | Health and Movement Sciences |
| Health Science, B.H.Sc. - Accelerated M.S. Exercise Science - Clinical Exercise | Health and Movement Sciences |
| Health Science, B.H.Sc. - Accelerated M.S. Physical Activity and Chronic Disease | Health and Movement Sciences |
| History 7-12, B.S. - History M.A. Accelerated Pathway | History |
| Nursing, B.S. - Accelerated Career Entry (ACE) | School of Nursing |
| Physical Education PK-12, B.S. - School Health Education M.S. Accelerated Pathway | Health and Movement Sciences |
| Physics, B.S. - Engineering Accelerated MS Pathway | Physics |
| Physics, B.S. – Physics MS Accelerated Pathway | Physics |
| Psychology, B.A. - M.A. Accelerated Pathway | Psychology |
| Psychology, B.S. - BS to MS Recreation Therapy Accelerated Pathway | Psychology |
| Psychology, B.S. - M.A. Accelerated Pathway | Psychology |
| Recreation and Leisure, B.S. - Recreation Administration M.S. Accelerated Pathway | Recreation, Tourism, and Sport Management |
| Recreation and Leisure, B.S. - Recreation Therapy M.S. Accelerated Pathway | Recreation, Tourism, and Sport Management |
| Sociology, B.A. - M.S. Accelerated Pathway | Sociology |
| Sociology, B.S. - Criminology and Criminal Justice M.S. Accelerated Pathway | Sociology |
| Spanish 7-12, B.S. - M.A. Accelerated Pathway | World Languages and Literatures |
| Sport Management, B.S. - M.S. Accelerated Pathway (Online Option) | Recreation, Tourism, and Sport Management |