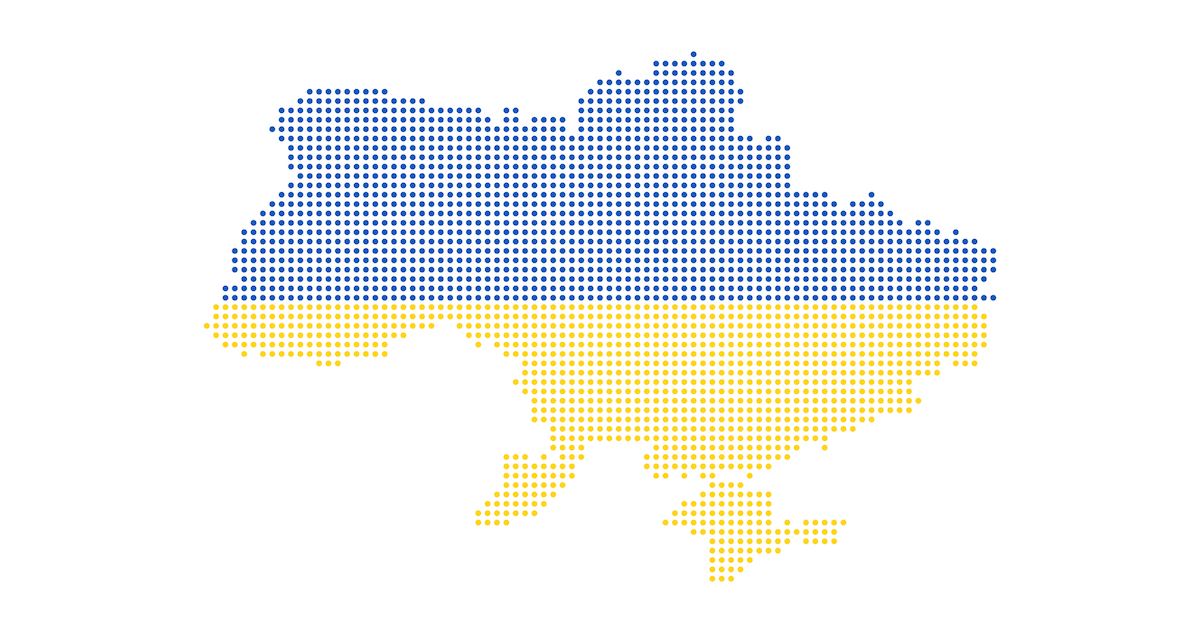 A symposium to address the ongoing war in Ukraine and to show solidarity with the Ukrainian people.
Date: Wednesday, April 20, 2022
Time: 2:00 - 6:00 p.m., EST
Note: The on-ground event has been cancelled, but the event will still take place virtually. Register below to receive the Zoom link.
Host and Sponsors: Judaic Studies; the offices of the President, Provost, and Diversity, Equity, and Inclusion; Women's and Gender Studies, Interdisciplinary Studies; and the departments of History, Political Science, Philosophy, Anthropology, Communication Disorders, and Environment, Geography and Marine Sciences
This event is over.
On February 24, 2022, Russia, under Vladimir Putin, invaded Ukraine—a sovereign, peaceful, democratic Eastern European nation—with the putative intention of "de-Nazifying" a country led by a Russian-speaking Ukrainian Jew and protecting its ethnic Russian speaking inhabitants from persecution.  This ongoing war, or what Putin insists on mischaracterizing as a "special military operation," has transfigured our world—upending geopolitical relations, threatening environmental and nuclear disaster, and reconfiguring global economics, culture, media, and historical relations.  This humanitarian catastrophe and world-changing event has even undone the traditional neutrality of Switzerland, caused a refugee crisis of a magnitude not witnessed since WWII, and terminated the post-Cold War world order.  As an institution of higher education whose central mission is social justice, we greet this opportunity and responsibility to enlighten our communities with nuanced, sophisticated, and penetrating analyses of this war seen in its multiple and overlapping contexts.
---
Schedule
| | |
| --- | --- |
| Session 1 (with 30-minute Q & A) | 2:00 - 4:00 p.m. |
| Break | 4:00 - 4:30 p.m. |
| Session 2  (with 30-minute Q & A) | 4:30 - 6:00 p.m. |
---
Speakers
Deborah Weiss
Deborah Weiss, PhD, is professor in the Department of Communication Disorders, co-director of the Judaic Studies Program, and president of the Faculty Senate at Southern Connecticut State University. She has authored publications and presented nationally on transdisciplinary training approach for speech-language pathology and special education graduate students to work with children with autism and peer-mentorship for students with autism spectrum disorders on college and university campuses. She has served as field editor and contributor for the first and second editions of Encyclopedia of Autism Spectrum Disorders. As a second-generation Holocaust survivor, Dr. Weiss has organized numerous programs designed to educate students and the public on the history of the Holocaust.
Joe Bertolino
Joe Bertolino, EdD, president of Southern Connecticut State University, has enjoyed a notable career in administrative leadership in higher education, as well as his work as an author, lecturer, and teacher. President Joe, as he is affectionately known, has been a social justice educator for over 25 years, and is passionate about student success and access to higher education. Dr. Bertolino has presented hundreds of programs to tens of thousands of students at over 600 colleges and conferences nationwide. He has authored numerous articles and book chapters, and is the co-author of Let The Games Begin, A Guide For Peer Mentors (2012). His research interests include student immigration (with an emphasis on undocumented students/Dreamers), campus community engagement, campus social change, leadership development, and social justice. 
Corinne E. Blackmer
Corinne E. Blackmer, PhD, is professor of English and Judaic Studies at Southern Connecticut State University. She has co-edited and contributed to two volumes: En Travesti: Opera, Women, Gender Subversion and Poisoning the Wells: Antisemitism in Contemporary America. She has authored numerous articles on everything from women and modernism, Jewish literature and the Hebrew Bible, to Jewish women's graphic novels and poetry and pinkwashing and LGBTQ politics. She has also authored Remembrance and Forgetting in Contemporary Israeli Literature, and the forthcoming Queering Anti-Zionism: LGBTQ Intellectuals, Israel/Palestine Campus Activism, and Academic Freedom.
Yevgeniya Gaber
Prof. Gaber is a Ukrainian foreign policy expert and a Non-Resident Senior Fellow at the Center in Modern Turkish Studies, Norman Paterson School of International Affairs, Carleton University. She previously worked as a Foreign Policy Advisor to the Prime Minister of Ukraine, Deputy Director of the Diplomatic Academy at the MFA of Ukraine, and political officer in the Embassy of Ukraine in Ankara.
Alla Marchenko
Prof. Marchenko is a sociologist finishing her doctoral program at Graduate School for Social Research, Institute of Philosophy and Sociology of the Polish Academy of Sciences in Warsaw. The topic of her second doctoral thesis is '"Comparative Analysis of the Hasidic Pilgrimage's Effects upon the Local Frames of Memory in Poland and Ukraine".  She worked as a researcher in the EU Project "ReHerit: Common Responsibility for Common Heritage" implemented by the Center for Urban History of East Central Europe (Lviv, Ukraine) in 2018-2021, and previously worked as a lecturer at Taras Shevchenko National University of Kyiv from 2009 to 2017.
Anatoliy Kruglashov
Dr. Kruglashov is a political scientist and historian who works as chair of the Department of Political Science and Public administration, and Director of Research Institute of European Integration and Regional Studies at the Chernivtsi Jury Fedkovych National University in Ukraine. He has served as the titular Member of the Group of Independent Experts on European Chapter of Self-Government, Congress of Local and Regional Authorities, Council of Europe, since 2014. His research interests include European integration with the special attention of the EU policy towards EaP countries, security studies, CEE and post-soviet space political processes, political regionalism and ethno-politics, the history of Political ideas, and Political Science, Public Administration and Self-government. He has twice served as Visiting Scholar and Professor to University of Alberta, and he was a Visiting fellow at Harvard Ukrainian Research Institute.
David Pettigrew
David Pettigrew is Professor of Philosophy at Southern Connecticut State University where he created and teaches a course on Holocaust and Genocide Studies. His article, "Mandate Interrupted: The Problematic Legacy of the International Criminal Tribunal for the Former Yugoslavia," appeared recently in Washington University Global Studies Law Review. Pettigrew serves as a member of the Steering Committee of the Yale University Genocide Studies Program.
Valentin Inzko
Valentin Inzko is an Austrian diplomat who served as High Representative in Bosnia from 2009 to 2021. He served as Ambassador to Slovenia and Bosnia from 1996-1999. Ambassador Inzko has served as well as the Austrian Representative at the United Nations, and as the Deputy Director of the UN Disarmament mission. Entering diplomatic service in 1974, Ambassador Inzko has been involved in Southeast European diplomacy since 1981, including postings in Belgrade. From 1999 to 2005, Ambassador Inzko headed the Austrian Foreign Ministry department responsible for Central, Eastern and Southern Europe as well as Central Asia and the Southern Caucasus. 
Iryna Tsilyk
Iryna Tsilyk a Ukrainian film director, writer, and screenwriter. She directed the feature-length documentary film The Earth Is Blue as an Orange, which won the "Directing Award: World Cinema Documentary" at Sundance Film Festival 2020, as well as numerous other honors around the world.  Tsilyk is currently finishing her feature-length debut fiction film, Rock. Paper. Grenade, based on the novel of her husband, Ukrainian prose writer Artem Chekh. Tsilyk is the author of 8 books published in Ukraine (poetry, prose, and children's books). During the years of the Russo-Ukrainian war, she has taken part in many different activities, such as literary readings, documentary shootings, and tutoring for children in the war zone in Donbas. Her recent poetry and films reflect this experience. Iryna and her son moved from Kyiv to Lviv for safety. Meanwhile, her husband Artem Chekh defends Kyiv in the Territorial Defense Forces.
Megan McCullough
Ms. McCullough is a Development Associate at Carnegie Endowment for International Peace in Washington, DC.  Named a 2020 State Department Boren Fellow to Ukraine, her research focused on the country's ethno-linguistic divide. Her current research examines the role of Russian soft-power foreign policy as a hindrance to post-conflict reintegration in Bosnia. She holds an MA in International Policy and Development with a specialization in Conflict Resolution and Russian Studies from the Middlebury Institute of International Studies at Monterey and a BA in Russian Studies from Boston University. She is an advocate and researcher for the Bosnian American Genocide Institute, a member of the Working Group for Bosnia and Herzegovina, and a contributor for the news site Lossi 36 and film journal Kino Kultura.
Anna Hurova
Dr. Hurova is research fellow in International Center of Space Law of National Academy of Science of Ukraine, professor of Kyiv National University of Trade and Economics, assistant-consultant for People's Deputy of Supreme Council of Ukraine, PhD in space law and environmental law. She had worked in National Space Agency of Ukraine, supported the EU project "LEOSWEEP" devoted to the development of the ion beam shepherd (IBS) technology for the removal of large debris object from crowded regions in low earth orbit (LEO) and was apprenticed as intern in Center for Interdisciplinary Research in Environmental Law, Planning and Urban Development (France) and UNIDROIT (Italy).  Dr. Hurova is a member of International Center of Space Law, Moon Village Association and Space Youth Council of Ukraine. 
David J. Simon
Prof. Simon serves as the Director of the Genocide Studies Program at Yale University and is a Senior Lecturer in the Department of Political Science at Yale. He has worked as a consultant with the United Nations Office of the Special Advisor for the Prevention of Genocide, among other UN agencies. He holds a BA from Princeton and a PhD in political science from the University of California, Los Angeles.