The Center's activities and initiatives are consistent with the stated goals of the mission of the SCSU School of Arts and Sciences. Two of the stated goals are to increase opportunities for faculty to participate in scholarly/creative activities and to increase collaborations among faculty from different departments/disciplines.
The Center provides a means for faculty and students from across departments/disciplines to participate in collaborative/ interdisciplinary research projects.
WCCMS Promotes Cross-disciplinary Collaboration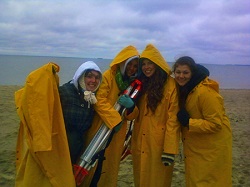 Currently, faculty and students interested in coastal marine research and education are isolated in various departments with little interaction. Existing programs within the departments are currently not encouraged to collaborate on research and pedagogical issues.   There currently is no formal structure that encourages or facilitates interdisciplinary collaboration among faculty and students at SCSU.
WCCMS Provides Undergraduate Research Opportunities
There is a need to establish a culture of research for undergraduate students at SCSU, consistent with the university's goal of regional preeminence. The best way for undergraduate students to understand science is through their involvement in research - learning science by doing science. This approach is consistent with the School of Arts and Sciences mission to explore methods to engage students in independent scholarship in conjunction with faculty guidance.  
WCCMS Develops Shared Resources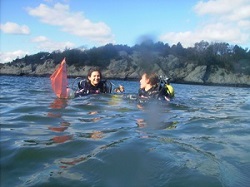 Coastal marine science is a resource-intensive enterprise and a mechanism to allow sharing of resources (e.g., ship time, specialized instrumentation) is necessary. Collaboration among faculty from different departments increases faculty and student access to resources and equipment that would be difficult for a single department to amass. As a result, the Center will provide a model for the development of shared resources and cooperation across disciplinary lines.
WCCMS Supports State-of-the-art Models for Science Education
Pursuant to the SCSU goal of regional preeminence, the Center will also promote the incorporation of state-of-the-art models for science education, consistent with the guidelines published by the National Research Council and the Association of American Colleges and Universities' Science for Civic Engagement initiative, by developing hands-on, field-based activities for new and existing curricula. Such curricula will be not only aid in the effective teaching of science, but will allow the students to develop well-informed and critical perspectives on issues of societal significance.
WCCMS Seeks External Sources for Support
A final way in which the proposed Center is consistent with the University's mission is by being entrepreneurial. The Center seeks to expand facilities and resources through external funding via grant writing and collaboration with the Office of Institutional Advancement.