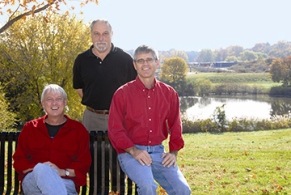 Southern's Center for Coastal and Marine Studies has received a major boost from the Werth Family Foundation with a recent grant of $170,000, most of which will be targeted toward student environmental research. 
The center focuses on faculty-directed student research designed to address issues of local and regional importance. Last summer, the grant provided $2,000 stipends to nine students pursuing a variety of projects. Similar proposals are anticipated during the next several years.
Pamela Werth, representing the Werth Family Foundation of Woodbridge, says the center's potential for serving the community, addressing environmental issues and bolstering education is a primary reason for the funding.  
"We are very thankful to the Werth family for its contribution, which is going to help our students with hands-on science projects that we believe will benefit society," says Dwight Smith, chairman of the Biology Department and co-director of the center.
"As an example, Long Island Sound can be a major resource for students," he adds. "The funding we have received will allow students to make greater use of it."
Indeed, several students conducted a major project using the Sound last summer, according to Vince Breslin, center co-director and associate professor of science education and environmental studies. The students took sediment samples at the New Haven and Norwalk harbors in an effort to determine the level of metal contamination. Two groups of students presented their findings during the recent Long Island Sound Biennial Research Conference at the U.S. Coast Guard Academy.
The Center for Coastal and Marine Studies was previously part of the Southern Connecticut State University Center for the Environment. It established a separate identity last year.