Southern Connecticut State University Celebrates
National Hispanic Heritage Month 2021
Each year, Hispanic and Latino Americans celebrate the contributions and cultures of Hispanic Americans whose heritage can be traced to Spain, Mexico, the Caribbean, and Central and South America.
The observation began as Hispanic Heritage week and was expanded to cover a 30-day period from September 15 through October 15.  September 15 is significant as the anniversary of independence for Latin American countries Costa Rica, El Salvador, Guatemala, Honduras and Nicaragua.  Mexico and Chile celebrate their independence on September 16 and September 18, respectively.
The celebration extends into October to mark "El Dia de La Raza" or "Day of the Race," which celebrates the Heritage of Latin America and all the ethnic and cultural influences that make it distinctive.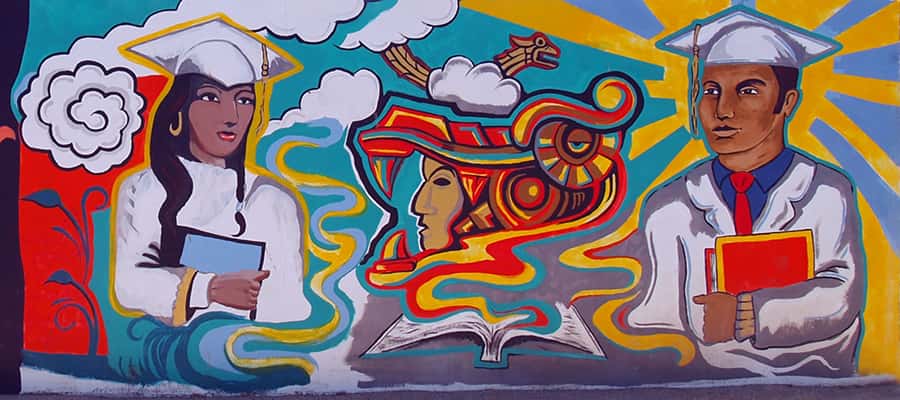 Buley Library Celebrates Hispanic Heritage Month!
Visit Buley Library from September 15 – October 15                                     
View the display celebrating the works and contributions of Hispanic authors, musicians, and filmmakers! 
Latin America and Female Health in Prison Systems
Wednesday , September 15, 7:30 PM  
ASC 311
Join us for a discussion on female health in prison systems in Latin America.
Fiesta Latina
Wednesday, September 15, 12:30 – 2:00 PM
Buley Library Patio
Kick off Hispanic Heritage month with games, music, and a chance to meet all the Latin organizations on campus!  Enjoy performances from the Organization of Latin American Students (OLAS) dance team, test your knowledge with games, and recognize and celebrate the influence and contributions of Hispanic Americans that have enhanced our nation and society.
CT BIPOC Wellness Initiative Presents National Hispanic Latino Heritage Month
September 27, 6:30 PM
Online: https://us02web.zoom.us/j/4529627603; Meeting ID: 452 962 7603
Join the CT BIPOC Wellness Initiative, an online and in-person organization providing services including free forums to the community for advocacy and information:
¡¡¡Bienvenidos a nuestra discusión sobre la floreciente cultura hispano-latina!!!
Welcome to our discussion on the thriving Hispanic-Latino culture!!!
12th Annual Empowering Lives featuring U.S. Secretary of Education Miguel Cardona
Monday, September 27, 1:00 PM
ASC Ballroom
Join us as we celebrate Hispanic/LatinX Heritage Month with a virtual presentation from Miguel Cardona, U.S. Secretary of Education, and a live question-and-answer session with Mr. Cardona. The program also features aan on-ground panel discussing how their own personal stories, obstacles, and triumphs have shaped who they are today. Enjoy Latin dishes and live performances by SCSU students. More information to come.  Contact the Multicultural Center with any questions.
A Taste of Latin America – Conn Hall celebrates Hispanic Heritage Month!
Thursday, October 7, 11:00 AM – 2:00 PM
Connecticut Hall
Enjoy a Latin-inspired lunch for $7.00 at Conn Hall in honor of Hispanic Heritage Month.  Savor foods from different Latin countries and enjoy a little Latin culture while you are there.
Voices of SCSU's Hispanic/Latinx Community: A Conversation from the Student's Perspective
Thursday, October 7, 7:00 PM
ASC 312
Join SCSU students for a panel discussion as they share their personal stories of what it means to be a Hispanic/LatinX student at SCSU. What are the social issues and misconceptions impacting their community?
Hispanics in Journalism – A Virtual Panel Discussion
Wednesday, October 13, 1:00 PM
Virtual
Register here to receive the meeting link: https://forms.office.com/r/pGPZS8M3zm
Please join us for a virtual panel discussion with local Hispanic journalists. Learn about their career paths, navigating the news media world as Hispanic journalists. This is a great event for those interested in careers in journalism, and to those interested in diverse representation in the news media.
Latin Jazz Ensemble (part of SCSU Small Ensembles Concert)
Wednesday, October 13, 7:30 PM
Garner Recital Hall (EN C-112)
The SCSU Latin Jazz Ensemble is SCSU's only music ensemble dedicated to playing music from the Latin Jazz tradition. For this concert the group will perform a short set of Latin Jazz featuring SCSU student vocalist Romario Cerrato. Romario will be singing classic Latin Jazz songs in both Spanish and English.
Conversation on Teaching History to Honor Hispanic Heritage
Thursday, October 14,  4:30 - 6:30 PM
Virtual Event: Join the Zoom meeting here
Join us for a virtual gathering of faculty, students, alums, in-service teachers, pre-service teachers, and interested participants to discuss a selection of readings (or media) that aid in the teaching of history that celebrates Hispanic culture.
Noche De Gala: "Una Noche en Panama"
Thursday, October 21, 8:00 PM - 12:00 AM
ASC Ballroom
Join OLAS at their annual semi-formal!  Each year Noche De Gala celebrates a different Latin country. This year SCSU celebrates "Una Noche en Panama"! Come and enjoy a night of Hispanic foods and dancing to a variety of music (not just Spanish) as we pay tribute to Panama and honor the Panamanian culture! Funds raised from this event will benefit scholarships for incoming Latino students. More information to come.
These two films from the Latino and Native American Film Festival, in collaboration with Arte Inc., are provided to you to watch at your leisure:
Sponsored by Arte Inc., Buley Library, CT BIPOC Wellness Initiative, the Latino and Native American Film Festival, the Multicultural Center, History Department, Organization of Latin American Students, SCSU Music Department, Southern Dining, Hermandad de Sigma Iota Alpha, and The Society of Professional Journalists (SPJ).