Southern Connecticut State University Celebrates
National Hispanic Heritage Month 2019
Each year, Hispanic and Latino Americans celebrate the contributions and cultures of Hispanic Americans whose heritage can be traced to Spain, Mexico, the Caribbean, and Central and South America.
The observation began as Hispanic Heritage Week and was expanded to cover a 30-day period from September 15 through October 15.  September 15 is significant as the anniversary of independence for Latin American countries Costa Rica, El Salvador, Guatemala, Honduras and Nicaragua.  Mexico and Chile celebrate their independence on September 16 and September 18, respectively.
The celebration extends into October to mark "El Dia de La Raza," or "Day of the Race," which celebrates the Heritage of Latin America and all the ethnic and cultural influences that make it distinctive.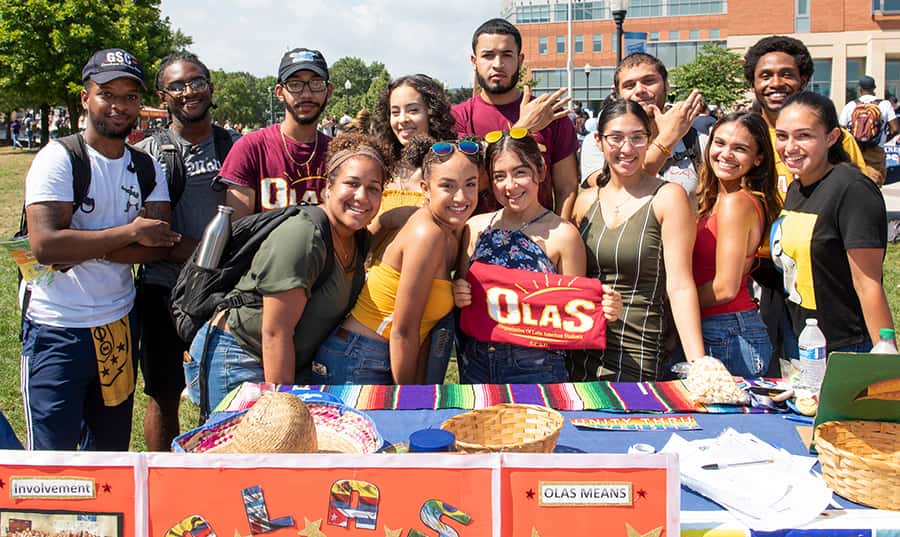 Buley Library Celebrates Hispanic Heritage Month!
Visit Buley Library from September 15 – October 15                                     
View the display celebrating the works and contributions of Hispanic authors, musicians and filmmakers!  Sponsored by Buley Library.   
Fiesta Latina
Wednesday, September 18
12:30 – 2:00 p.m.
ASC Outdoor Patio (In front of Dunkin' Donuts)
Kick off Hispanic Heritage month with Son Siete! Join the band as they take you back to the days of Hector Lavoe and bring you forward to the sounds of Coldplay with their unique salsa rendition of "Clocks." Their wonderful combination of Latin rock and salsa can get heads turning and bodies moving. Enjoy light refreshments and performances from the Organization of Latin American Students.  Sponsored by the Multicultural Center with support from the Organization of Latin American Students.
Are you Hispanic/Latinx?
Wednesday, September 25
12:30 – 1:30 p.m.
Engleman B121 A&B
The Multicultural Center staff proudly invites students, faculty, staff and allies to come meet, greet, and network with the Hispanic/Latinx community on Southern' s campus. Light refreshments will be provided. Sponsored by the Multicultural Center with support from the Organization of Latin American Students.
11th Annual Empowering Lives
Monday, September 30
1:00 p.m.
ASC Ballroom
Join us as we celebrate Hispanic/Latinx Heritage Month with Cin Martinez -- actress/playwright, and a Southern alumna. She will discuss how her own personal story, obstacles, and triumphs have shaped her and her vision for more equitable opportunities for underserved populations. Enjoy Latin dishes and live performances by SCSU students and poetry from former SCSU student Ms. Yolangely Collado. Sponsored by The Multicultural Center with support from the Organization of Latin American Students
A Taste of Latin America – Conn Hall celebrates Hispanic Heritage Month!
Tuesday, October 1
11:00 a.m. – 2:00 p.m.
Connecticut Hall
Enjoy a Latin-inspired lunch for $7.00 at Conn Hall in honor of Hispanic Heritage Month. Savor foods from different Latin countries and enjoy a little Latin culture while you are there! Sponsored by Chartwells and the Organization of Latin American Students.
Latinx LGBTQ+ Bingo
Tuesday, October 1
1:00 p.m.
Adanti Student Center Rm 301
As part of Hispanic Heritage month and LGBTQ+ History Month, come learn about notable Latinx LGBTQ+ individuals through a fun and educational game of Bingo! Winners will receive a prize!
Voices of SCSU's Hispanic/Latinx Community: A Conversation from the Student's Perspective
Monday, October 7
7:30 p.m.
ASC 201
Join SCSU students for a panel discussion as they share their personal stories of what it means to be a Hispanic/Latinx student at SCSU. What are the social issues and misconceptions impacting their community? Sponsored by the Organization of Latin American Students.
National Latinx AIDS Awareness Day
Tuesday, October 15
Time TBA
Room TBA
Please join us for an HIV prevention forum addressing issues impacting the Latinx community. Free, rapid HIV testing will be offered at the event. Sponsored by Cornell Scott Health Center with support from the Organization of Latin American Students.
Noche De Gala: Una Noche en Venezuela
Thursday, October 24
8:00 p.m. – 1:00 a.m.
ASC Ballroom
Join OLAS at their annual semi-formal!  Each year Noche De Gala celebrates a different Latin country.  This year SCSU celebrates Una Noche en Venezuela! Come and enjoy a night of Hispanic foods and dancing to a variety of music (not just Spanish) as we pay tribute to Venezuela and honor the Venezuelan culture! Funds raised from this event will benefit scholarships for incoming Latino students.
Tickets purchased by October 17 are $10 for SCSU students, $15 faculty/staff and other outside guests. Tickets purchased after October 17 - $15 for SCSU students, $20 faculty/staff and all other outside guests. All tickets may be purchased online at  www.southernct.edu/olas   Sponsored by the SCSU Multicultural Center and the Organization of Latin American Students.  
QUEST Education Summit for Latino High School Students 
Saturday, November 9
9:30 a.m. – 3:30 p.m.