Southern Connecticut State University Celebrates
National Latinx/Hispanic Heritage Month 2023
Each year, Hispanic and Latinx Americans celebrate the contributions and cultures of Hispanic Americans whose heritage can be traced to Spain, Mexico, the Caribbean, and Central and South America. The observation began as Hispanic Heritage week and was expanded to cover a 30-day period from September 15 through October 15.  September 15th is significant as the anniversary of independence for Latin American countries Costa Rica, El Salvador, Guatemala, Honduras and Nicaragua.  Mexico and Chile celebrate their independence on September 16 and September 18, respectively. The celebration extends into October to mark "El Dia de La Raza" or "Day of the Race" which celebrates the Heritage of Latin America and all the ethnic and cultural influences that make it distinctive.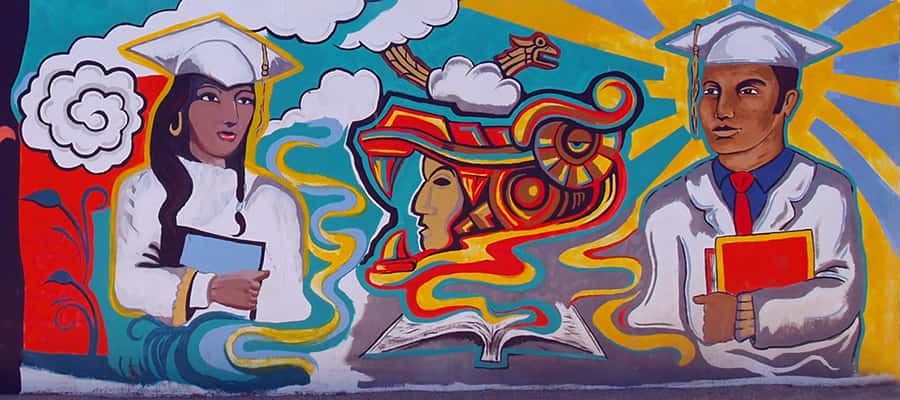 Events
---
Buley Library Celebrates Latinx/Hispanic Heritage Month!
September 15 – October 15 | Buley Library, First Floor Exhibit Case
Visit Buley Library and view the display of selections of its physical and electronic resources that represent Hispanic culture and heritage during library open hours.
---
Fiesta Latina 2023
Wednesday, September 20th, 2023 @12:00 - 2:00PM | Buley Library Patio
Join our guest DJ as he explores the sounds of Latin America, Hispaniola, and the Spanish speaking world through a mix of salsa, merengue, bachata, Latin jazz, reggaeton and Latin pop. Through this exploration of sound and heritage, connect with the students and community members who continue the traditions from the birthplaces of the sounds. Once there, connect with the Organization of Latin American Students, Hermandad de Sigma Iota Alpha, Inc., Mexican Cultural Society, and Lambda Alpha Upsilon Fraternity over southern style pina coladas. Sponsored by the Multicultural Center.
---
Movie on the Lawn: In the Heights
Tuesday, September 26th, 2023 @8:30PM | Residence Life Quad
Rain Date: September 28th
In honor of National Latinx/Hispanic/ Heritage Month, join us for a screening of In the Heights. A film version of the Broadway musical, written and produced by Quiara Alegría Hudes and Lin-Manuel Miranda, the film explores the complexities of life in the inner city for Hispanic/Latinx youth, the obstacles of being a first-generation college student, and the intersection of culture and higher education. Sponsored by the Multicultural Center, Residence Life, and the Residence Hall Association.
---
Noche de Juegos: Domino Tournament
Wednesday, September 27th, 2023 @ 7:30PM | Adanti Student Center, Room 309
Come and show off your domino skills with the SIAs! We will be having a tournament to see who the best domino player on campus will be. Sponsored by Hermandad de Sigma Iota Alpha, Inc.
---
15th Annual Empowering Lives: Latinos: Driving Prosperity, Power, and Progress in America
Wednesday, September 27th, 2023 @1:00PM | ASC Ballroom
Join us as we celebrate Latinx/Hispanic Heritage Month featuring Chris Soto, who currently serves as senior advisor to U.S. Secretary of Education Dr. Miguel Cardona. He will share his own personal story, obstacles, and triumphs that have shaped who he is today and discuss the significant achievements of the Hispanic community. Sponsored by the Multicultural Center with support from the Organization of Latin American Students.
---
Bridging Cultural and Social Differences for Indigenous Health in Peru
Thursday, September 28, 2023 @ 12-1pm | Adanti Student Center Theater
The School of Nursing invites you to join us for a report back on the study abroad program to Cusco, Peru. Students and faculty will share their service-learning experience which included providing preventive care to families at a public clinic in Cusco and surrounding remote communities. Network with alumni of the program and find out how you can participate and support the partnership with Missions for Good.
---
Movie & Discussion of West Side Story
Monday, October 2nd, 2023 @ 5:00PM-6:00PM | Adanti Student Center Room 301
Join OLAS for a movie screening and discussion conversation on West Side Story! An adaptation of the 1957 musical, West Side Story explores forbidden love and the rivalry between the Jets and the Sharks, two teenage street gangs of different ethnic backgrounds.
---
Sabor y Saber: Celebrating LGBTQ+ Latinx/Hispanic Voices
Tuesday, October 3rd, 2023 @ 12:00PM | Adanti Student Center, Room 201
Join us for a dynamic panel discussion that shines a spotlight on the remarkable LGBTQ+ Latinx community. Local drag queens, students, and faculty members will share their unique perspectives and experiences, shedding light on the intersectionality of Latinx and LGBTQ+ identities. Sponsored by the SAGE Center and the Multicultural Center.
---
Mi Gente, Mi Familia, Mis Amigos: Student, Staff & Faculty Mentorship Connection
Wednesday, October 4th, 2023 @1:30PM-2:30PM | Engleman B121 A/B
The Multicultural Center staff proudly invites the Southern community and allies to come meet and network with Latinx/Hispanic students, faculty, and staff with the intention of building long-lasting relationships for our BIPOC students. Meet ALAS(Advancing Latino/a/e/xs at Southern) and learn about their work and priorities supporting the Latinx community. Light refreshments will be provided. Sponsored by ALAS(Advancing Latino/a/e/xs at Southern) and the Multicultural Center.
---
Cena a las Seis
Wednesday, October 4th, 2023 @6:00PM | Adanti Student Center, Room 202
In honor of Latinx/Hispanic Heritage month, join the Multicultural Center for "dinner at six"! The featured presenter of this month's "cena" is Dr. Rafael Hernandez, chair for the Department of World Languages and Literatures. As you enjoy Latin American cuisine, Dr. Hernandez will share his experiences, challenges, and tips on how to navigate life's obstacles. This monthly event is a special opportunity for all students to come together as they work towards the same goal: a successful college experience! Sponsored by the Multicultural Center and the World Language Department.
---
Papel Picado Workshop: A Mexican Folk Art Tradition
Wednesday, October 4th, 2023 @ 7:00PM | Adanti Student Center, Room 309
Papel picado translates to "perforated paper." It is a traditional Mexican folk art that involves cutting intricate patterns and designs into colorful sheets of paper. Often displayed during festivities and holidays like Day of the Dead and Cinco de Mayo, these banners are hung to beautify and enliven spaces. Their vibrant and detailed designs capture the beautiful tapestry of Mexican culture and history. Sponsored by Hermandad de Sigma Iota Alpha, Inc.
---
A Taste of Latin America – Conn Hall Celebrates Latinx /Hispanic Heritage Month!
Thursday, October 12th, 2023 @11:00AM-2:00 PM | Connecticut Hall
Enjoy a Latin inspired lunch for $10.00 at Conn Hall in honor of Hispanic/Latinx Heritage Month. By experiencing and understanding the cuisine of another culture, you can open yourself up to understanding their stories! Savor foods from different Latin countries and embrace Latin culture with members of the community while you are there. Sponsored by Southern Dining
---
Pre-Columbian Ceramic Tour and Lecture
Monday, October 16th, 2023 @1:00PM-2:30PM | Buley Art Gallery (Buley Library ground floor)
Let's close National Latinx/Hispanic Heritage month and engage in an enriching walking tour of the collection, observing and understanding the intricate details and histories of each artifact. Lecture led by our esteemed guest, Jennifer Reynolds-Kaye, director of the Housatonic Museum of Art. Jennifer brings a wealth of knowledge and a unique perspective on Pre-Columbian artistry that promises an enlightening experience for all attendees.
More information to come for RSVP.
Sponsored by Latin American and Caribbean Studies Program
---
An Afternoon with Roberto Alfaro: "No Dream is Too Big To Dream!"
Tuesday, October 17th, 2023 @ 12:00 PM | ASC Room 301
Join us as Roberto Alfaro shares his inspiring story of survival, heartbreak, redemption, and ultimately beating the odds in a way that no one expected. Learn about Roberto's experience from growing up poor in one of the worst drug and gang-infested neighborhoods of the South Bronx during the '60s and '70s, to battling with bouts of bullying at school, domestic violence at home, and going from an extremely shy kid to a troubled young man who suddenly found himself going down the wrong path. Sponsored by the Multicultural Center with support from the Organization of Latin American Students.
---
Noche De Gala
Thursday, October 26th, 2023 @ 8:00PM-12:00AM | ASC Ballroom A/B
Join OLAS at their annual semi-formal! Each year Noche De Gala celebrates a different Latin country. This year SCSU celebrates all the Latin countries! Come and enjoy a night of Hispanic foods and dancing to a variety of music (not just Spanish) as we pay tribute to and honor Latin culture! Funds raised from this event will benefit scholarships for incoming Latino students. More information to come. Sponsored by the Organization Students.
---
Organization of Latin American Students (OLAS)
Meets every Monday in the Adanti Student Center, Room 301 from 5:00PM-6:00PM.
---
Mexican Cultural Club
Meets every Wednesday in the Adanti Student Center, Room 301 from 1PM-2PM.
---
The Latin American and Caribbean Studies Program at Southern Connecticut State University welcomes globally conscious students interested in broadening their cultural, economic, geographical, historical, political and social understanding of Latin America and the Caribbean. The 18-credit minor provides students with an opportunity to embrace an interdisciplinary study of the region, while enhancing their appreciation for our multicultural, multiethnic, multilingual society. To complete the minor, students choose from a broad variety of courses to create a coherent program that matches their academic interests.
Sponsored by:
ALAS (Advancing Latino/a/e/xs at Southern)
Buley Library
Diversity, Equity and Inclusion
Department of Residence Life
Hermandad de Sigma Iota Alpha
Lambda Alpha Upsilon Fraternity
Mexican Cultural Society
Multicultural Center
Residence Hall Association
Organization of Latin American Students
SAGE Center
School of Nursing
Southern Dining
World Languages and Literatures Department