Southern Connecticut State University
Celebrates National Hispanic Heritage Month:
Honoring the History, Understanding the Journey!
Each year, Hispanic and Latinx Americans celebrate the contributions and cultures of Hispanic Americans whose heritage can be traced to Spain, Mexico, the Caribbean, and Central and South America. The observation began as Hispanic Heritage week and was expanded to cover a 30-day period from September 15 through October 15. September 15th is significant as the anniversary of independence for Latin American countries Costa Rica, El Salvador, Guatemala, Honduras and Nicaragua. Mexico and Chile celebrate their independence on September 16 and September 18, respectively. The celebration extends into October to mark "El Dia de La Raza" or "Day of the Race" which celebrates the Heritage of Latin America and all the ethnic and cultural influences that make it distinctive. 
This year's theme, "Honoring the History, Understanding the Journey," focuses on the necessity of revisiting the past, its trials, and its influence in order to better understand and serve the inheritors of those histories. Through intentional programming that educates and examines the historical narratives, customs, and conflicts in Hispanic and Latinx history, their significance, and their impact on Hispanic/Latinx students today, we will ask the question of how SCSU can contextualize the past in order to pave a more equitable future!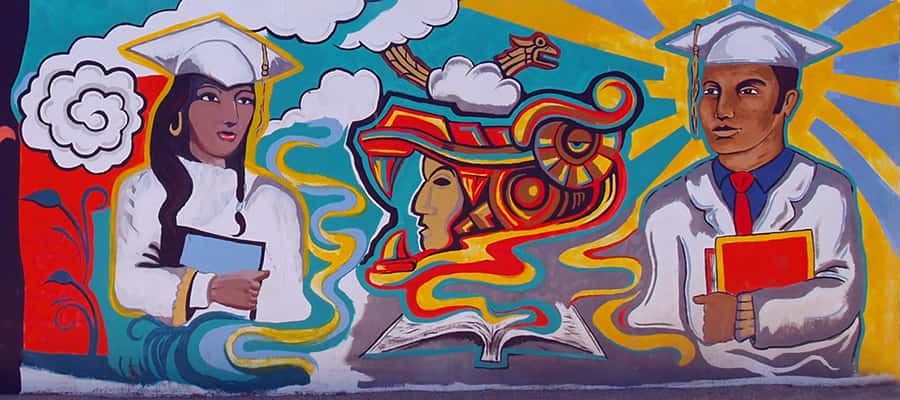 Events
Buley Library Celebrates Hispanic Heritage Month!
Buley Library from September 15 – October 15                                     
Visit Buley Library and view the display of library materials that represent Hispanic Culture and Heritage during library open hours.
---
Kick-off Hispanic/Latinx Heritage Month with Fiesta Latina
Thursday, September 15th, 2022 @12:00 - 2:00PM | Buley Library Patio
Join our guest, DJ Christie as she explores the sounds of Latin America, Hispaniola, and the Spanish speaking world through a mix of salsa, merengue, bachata, Latin jazz, reggaeton and Latin pop. Through this exploration of sound and heritage, connect with the students and community members who continue the traditions from the birthplaces of the sounds. Once there, connect with the Organization of Latin American Students, Hermandad de Sigma Iota Alpha, Inc., Lambda Alpha Upsilon Fraternity over southern style pina coladas, and enjoy performances from the Organization of Latin American Students dance team.
---
Movie on the Lawn : In the Heights
Monday, September 19th, 2022 @8:30PM | Residence Life Quad
Rain Date: Tuesday September 20th
In honor of National Hispanic/Latinx Heritage Month, join us for a screening ofIn the Heights.A film version of the Broadway musical, written and produced by Quiara Alegría Hudes and Lin-Manuel Miranda, the film explores the complexities of life in the inner city for Hispanic/Latinx youth, the obstacles of being a first-generation college student, and the intersection of culture and higher education.
---
Cena a las Seis (Dinner at Six)
Wednesday, September 21st, 2022 @6:00PM | ASC 234
In honor of Hispanic/Latinx Heritage month, join the Multicultural Center for "dinner at six!" The featured presenter of this month's "cena" is Samira Zuniga, the newly appointed Graduate Intern of the MCC. As you enjoy Latin American cuisine, Samira will be sharing her experiences and useful resources as a Latina student at SCSU. This monthly event is a special opportunity for all students to come together as they work towards the same goal: a successful college experience!
---
14th Annual Empowering Lives: Honoring the Journey
Monday, September 26th, 2022 @1:00PM | ASC Ballroom
Join us as we celebrate Hispanic/Latinx Heritage Month featuring Superintendent of Hartford Public Schools Dr. Lesley Torres-Rodriguez. She will share her own personal story, obstacles and triumphs have shaped who she is today and discuss what itwas like migrating from Puerto Rico to Hartford, CT, being a multilingual learner and how those personal experiences informed her values and leadership practice. Enjoy Latin dishes and live performances by SCSU students. More information to come. Contact the Multicultural Center with any questions.
---
Latino and Native American Film Festival
Tuesday, September 27, @ 3:00PM-4PM | ASC Theater
The Latino & Native American Film Festival (LANAFF) is groundbreaking in its dedication to the recruitment and retention of Latino and Native American students toward furthering their education at the university level.
---
The Afro-Latinx Experience Panel Discussion
Wednesday, September 28th, 2022 @ 3:00PM-4PM | ASC 201
In honor of Hispanic/Latinx Heritage Month, the Multicultural Center is hosting a student-led discussion that focuses on the Afro-Latinx experience. In order to highlight all individuals that identify as Hispanic/Latinx, come learn about the intricacies of intersectional identity and why Blackness and Latinidad are not mutually exclusive. Come discover what it means to be Afro-Latinx at this student-led discussion: show up to learn, celebrate, and have fun!
---
A Taste of Latin America – Conn Hall Celebrates Hispanic/Latinx Heritage Month!
Tuesday, October 4th, 2022 @11:00AM-2:00 PM | Connecticut Hall
Enjoy a Latin inspired lunch for $8.00 at Conn Hall in honor of Hispanic/Latinx Heritage Month. By experiencing and understanding the cuisine of another culture, you can open yourself up to understanding their stories! Savor foods from different Latin countries and embrace Latin culture with members of the community while you are there.
---
Mi Gente, Mi Familia, Mis Amigos: Student, Staff & Faculty Mentorship Connection
Wednesday, October 5th, 2022 @12:30PM-1:30PM | Engleman B121 A/B
The Multicultural Center staff and the Latin American/Native American Advancement Committee (LANAAC) proudly invites Southern community and allies to come meet and network with Hispanic/Latinx students, faculty and staff with the intention of building long-lasting relationships for our BIPOC students and learn about the Latin American/Native American Advancement Committee (LANAAC)  work and priorities supporting the Latinx community. Light refreshments will be provided. 
---
Honoring Race in your Job Search Workshop with OCPD
Wednesday October 5th | Virtual Event @ 1:00-1:45
Join the Office of Career and Professional Development in a Webinar that teaches the importance of acknowledging race and identity during job searches, interviews, and career engagements. Learn how to bring up the topic of race and culture during job interviews, and how to engage in conversations to ensure that potential workplaces are equitable and inclusive to you and your wellbeing.
---
Queerness and Culture Series: Discussing Queerness in the Hispanic/Latinx Community
Monday, October 10th, 2022 @ 1:00PM | ASC 201
Join The Multicultural Center, in collaboration with SCSU's S.A.G.E. Center, for a panel discussion with student leaders and SCSU administrators from Southern' s Hispanic/Latinx community about the experiences, issues, and joys of intersectional identities of queerness and ethnicity.
---
Noche De Gala: Una Noche en Guatemala
Thursday, October 20th, 2022 @8:00PM-12:00AM | ASC Ballroom A/B
Join OLAS at their annual semi-formal! Each year Noche De Gala celebrates a different Latin country. This year SCSU celebrates Una Noche en Guatemala! Come and enjoy a night of Hispanic foods and dancing to a variety of music (not just Spanish) as we pay tribute to and honor the Guatemalan culture! Funds raised from this event will benefit scholarships for incoming Latino students. More information to come.
---
Future Events and Information
Keynote with Juan Gonzalez
Monday, April 11th, 2023| Time & Location: TBD
The Department of Latin American and Caribbean Studies and numerous sponsors
Join us for a talk by this academic year's Latin American and Caribbean Studies' Social Justice Speaker award-winning journalist and activist Juan González. Not only will González speak about his life as a journalist and activist, but about his pathbreaking book Harvest of Empire: A History of Latinos in America, which is this year's Social Justice Shared Read selection.
The Latin American and Caribbean Studies Program at Southern Connecticut State University welcomes globally conscious students interested in broadening their cultural, economic, geographical, historical, political and social understanding of Latin America and the Caribbean. The 18-credit minor provides students with an opportunity to embrace an interdisciplinary study of the region, while enhancing their appreciation for our multicultural, multiethnic, multilingual society. To complete the minor, students choose from a broad variety of courses to create a coherent program that matches their academic interests.
Organization of Latin American Students (OLAS)
Meets every Monday in the Adanti Student Center, room 301 from 1PM-2PM.
Sponsored by:
Buley Library
Center for Academic Success and Accessibility Services
Diversity, Equity & Inclusion
Department of Residence Life
Hermandad de Sigma Iota Alpha
Latin American and Caribbean Studies
Multicultural Center
Office of Career and Professional Development
The Latino and Native American Student Advancement Committee (LANAAC)
Organization of Latin American Students Programs Council
SAGE Center
Southern Dining