Explore the field of information. Discover a career in information and cultural institutions.
The library profession is constantly evolving to manage the almost daily advances in technology – as well as the increasing sophistication of library users.
Southern's information and library science programs will give you solid experience in library science while offering an array of electives in areas like digital libraries, information architecture, network management, and instructional design. Our electives prepare you for professional positions in public libraries, academic libraries, special libraries, and school media library centers, as well as non-traditional information careers.
Offerings of all core courses and a large array of electives through online study have permitted students from across the country and around the world to complete a Master of Library and Information Science through Southern.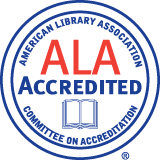 The Master of Library and Information Science (MLIS) degree will give you the essential skills and theoretical knowledge necessary to succeed as an information professional in a wide variety of positions and library facilities. This new program, intended for those seeking to develop or advance careers in the information profession, has been fully accredited by the American Library Association (ALA).
Southern is the only university in the state of Connecticut to offer a fully online MLIS program, which allows you to complete your degree without putting your career on hold. Graduates will incorporate the knowledge, skills, ethical foundations, and social responsibilities of the information professions into professional practice.