Southern is one of only 153 universities and colleges around the world to be honored by Exercise is Medicine® for its efforts to create a culture of wellness on campus. The university earned gold-level designation from the Exercise is Medicine® On Campus (EIM-OC) program, as well as earning EIM's COVID Conqueror Badge, a new honor given to campuses that demonstrated creative adaptations to physical activity programming during the COVID-19 pandemic.

Mission Statement
Consistent with the statements established by Southern Connecticut State University, the College of Health & Human Services and the Department of Health & Movement Sciences, the faculty composing the Exercise and Sport Science Program adheres to the concept of both undergraduate and graduate students engaged in study of the Health & Movement Sciences striving to accomplish the following:
Professional excellence in academic knowledge and the practical application thereof based on the Competencies of the American College of Sports Medicine (ACSM), the National Strength & Conditioning Association (NSCA) and the Guidelines of the American Society of Exercise Physiologists (ASEP).
Fundamental, advanced, and contemporary exercise science knowledge applied in state, regional and national professional settings of disease prevention, healthful lifestyle, physical activity promotion, clinical rehabilitation and fitness maintenance.
Adherence to the ACSM published Code of Ethics and maintain the highest moral standards in professional activity.
Exemplary leadership in personal and professional lifestyle behaviors demonstrating the concept "fit body – fit mind" and the Exercise is Medicine® global health initiative.
Active participation in serving the professional needs of peers, the local community and the society in general.
The Sport Science concentration of the Exercise and Sport Science major is designed to prepare its students for positions in a fitness or strength and conditioning setting. Specific occupational opportunities include strength & conditioning coaching at the high school or college setting, adult fitness in a corporate, community, commercial or private setting; research assistance in biomechanics (running gait, sports equipment design, limb prosthesis) and sport nutrition; youth fitness in public and private agencies; and special population fitness across the lifespan.
According to the American College of Sports Medicine (ACSM), group exercise training is the number 2 trend in world fitness. Additionally, with the push for exercise to be included in the prevention and long-term care of many co-morbid conditions such as obesity and diabetes, there is a greater need for knowledgeable exercise instructors. To meet the rising need of qualified and competent exercise professionals, a comprehensive education is crucial.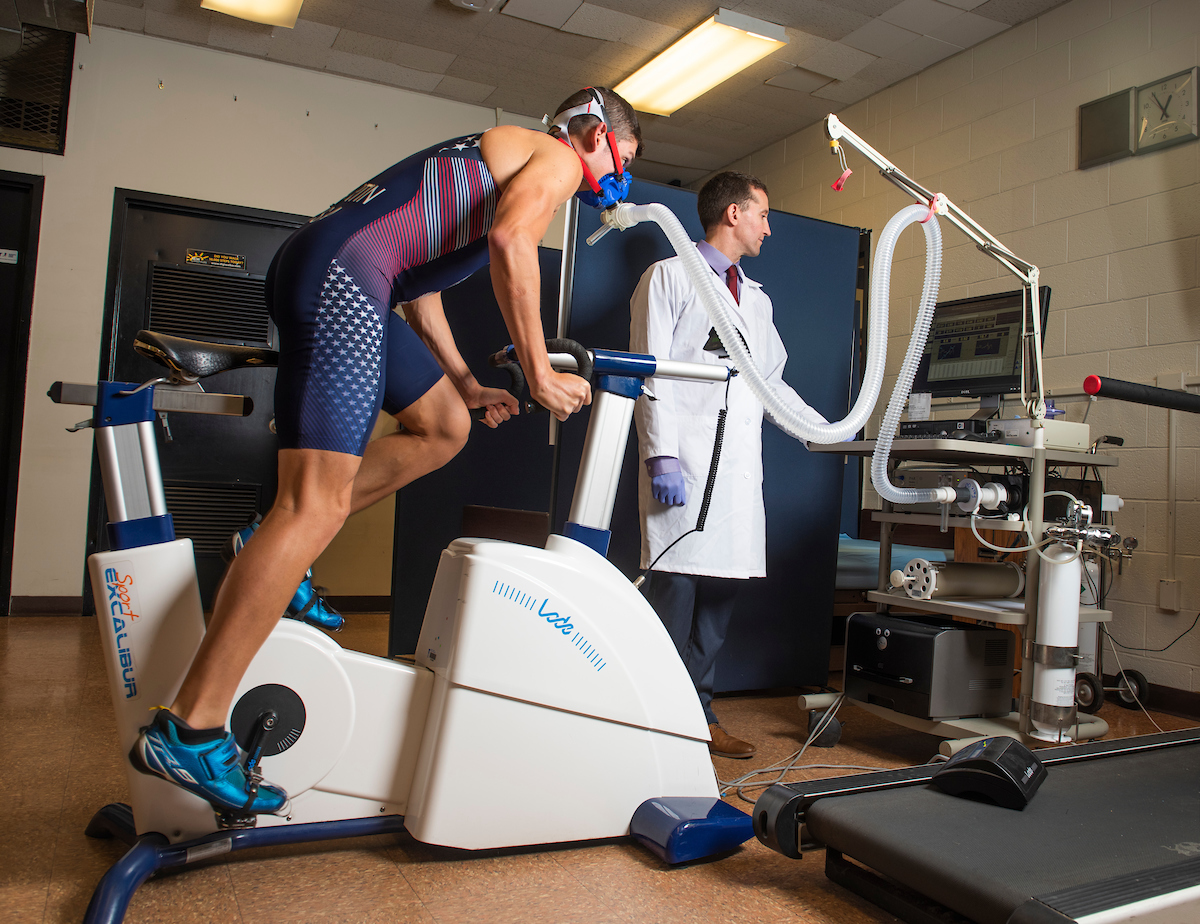 Program Features
State of the art classroom/laboratories in the areas of Biomechanics, Exercise & Resting Metabolism, Exercise Behavior, and Neuromuscular Control under construction to be completed January, 2022
Opportunity for student involvement in research
Long history of developing highly qualified exercise professionals
A six-credit internship experience providing students with hands-on opportunities to apply scientific course work principles in a real-life situation
The program is endorsed by the American College of Sports Medicine and was recently reaccredited by the Commission on Accreditation of Allied Health Education Programs (CAAHEP). Students completing this program are expected to take professional certification examinations to become recognized leaders and practitioners in fitness instruction.
All pre-Sport Science students must formally apply to the program following successful completion of core coursework and GPA standards.  Following successful acceptance, Sport Science students must achieve minimum course and overall GPA standards toward graduation.  Those details can be found in the Exercise and Sport Science student handbook found here:
Program Requirements
Visit the undergraduate catalog for program requirements and further information.
Contact Us
Dr. William Lunn, PhD, FACSM
Program Coordinator, Exercise and Sport Science
lunnw1@southernct.edu