We care about your health, and our holistic approach to your well-being includes not only medical and laboratory services but also wellness support and health education. We'll help you take care of yourself so that you can get the most out of your college years.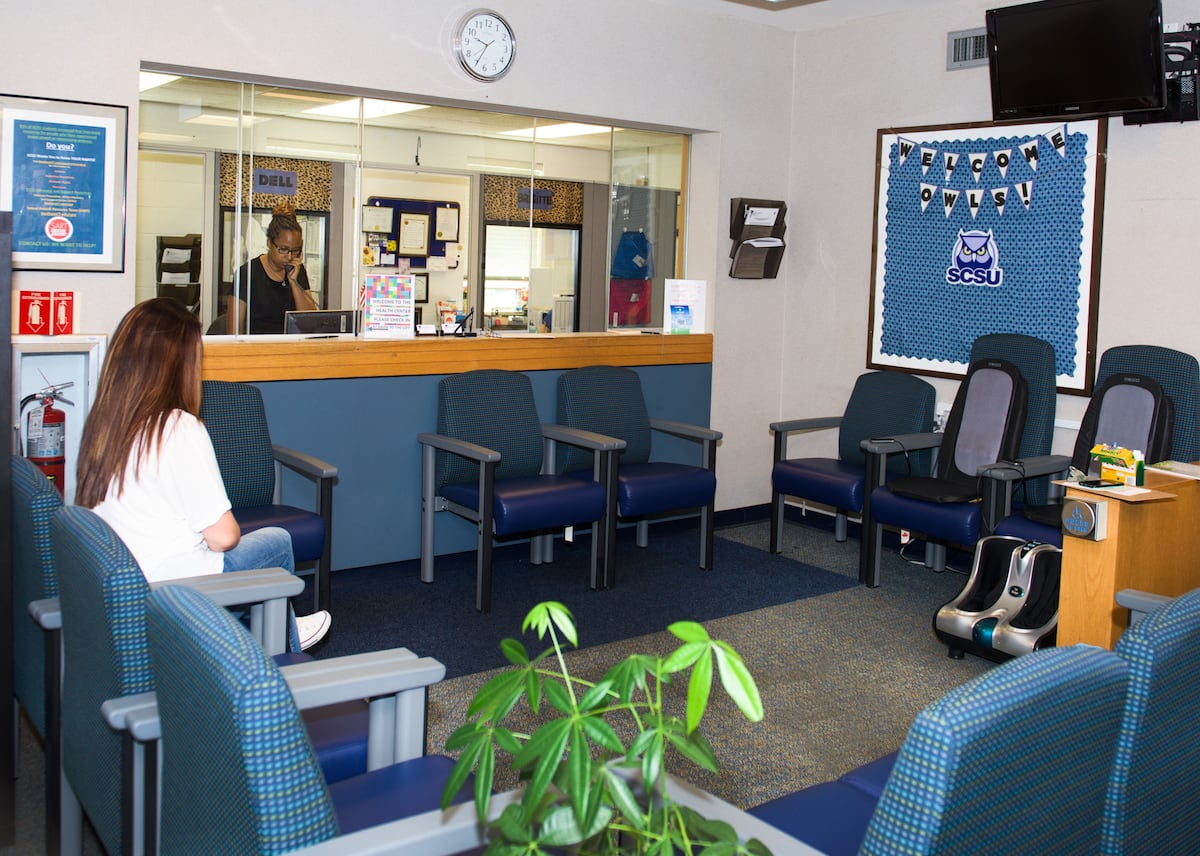 Student Health Services
You don't have to leave campus for healthcare -- our services are available right here, at no out-of-pocket cost to you. Whether it's a medication refill, injury, or illness we are here to help with whatever we can.
Student Heath Services provides students with medical care of acute injury and illness, laboratory and diagnostic services, medications and medical supplies, and safe sex assistance and contraception, as well as a number of wellness support services, such as smoking cessation.
We also provide education on a variety of important health topics, including substance abuse, stress management, sleep habits, sexual education, tobacco cessation, nutrition, and wellness.
Affordable and Convenient
Insurance is not required and there are no copays for visits. Occasionally, students may be charged a small fee for prescriptions or on-site testing, which is billed to the student account. Students are never asked to make any payments out-of-pocket. Lab services are available in-office and processed through Quest Diagnostics and the Department of Public Health. For those who may be without transportation, we partner with Chapel Street Pharmacy for free prescription delivery.
Familiar with the Needs of Our Students
The providers in Health Services work to address the unique healthcare needs of our campus community such as evaluation of illness and injury, contraceptive counseling and management, sexual health, STI screening and treatment, and assistance with management of chronic illness. We also partner with on-campus Counseling Services to assist in holistically addressing the needs of students who may be experiencing mental health concerns such as depression, anxiety, stress, insomnia, eating disorders, smoking cessation, or substance use disorders.
By accessing the available medical resources, students learn how to care for themselves and are better prepared to identify and address potential health and wellness concerns in a holistic, timely, and convenient manner. As a result, students are more likely to remain active and engaged on campus and focused on meeting their academic goals.
Counseling Services
Counseling Services provides a range of free and confidential brief, goal-directed mental health treatment services to students, as well as a variety of training and outreach programs that promote holistic well-being for individuals and the larger campus community.
Wellbeing Center
The Wellbeing Center at Southern is a one-stop shop for student wellbeing support services, educational programming, and leadership development. The Wellbeing Center's mission is to create happier, healthier, and more successful students through the promotion of holistic wellbeing.