Our Resident Advisors and Residence Hall Councils create diverse programs to expose students to a variety of cultural topics, educational skills, and a multitude of opportunities for entertainment and social interaction. The Office of Residence Life is also dedicated to student safety and offers a selection of resources to help students feel supported and secure in their new homes.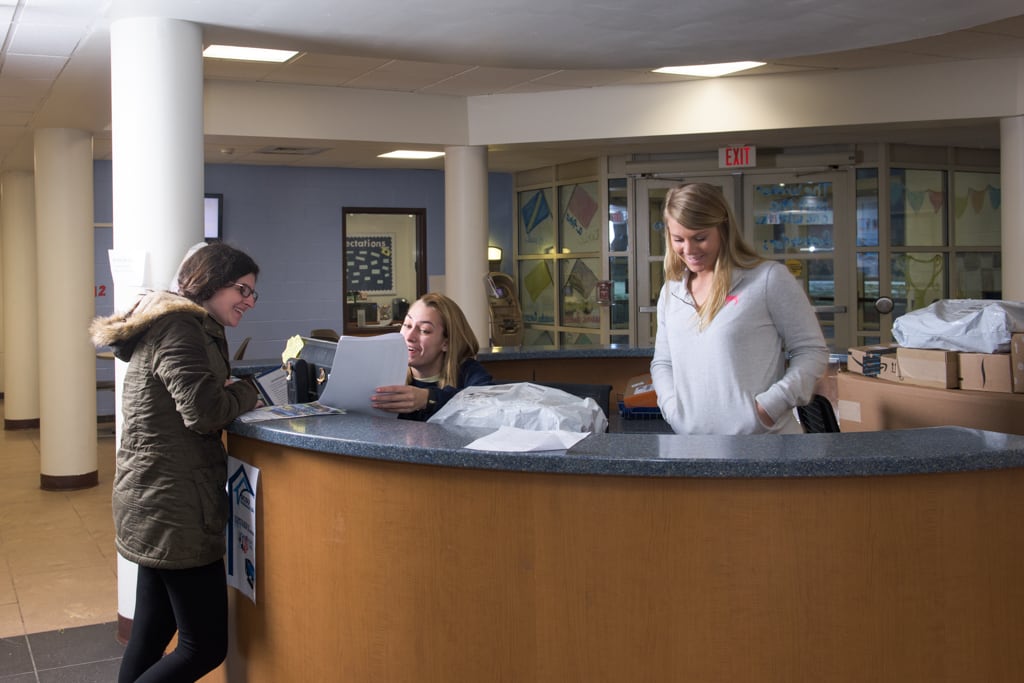 Computer Labs
The Office of Residence Life recognizes that all students may not be able to bring computers to campus and offers three state-of-the-art computer labs. The labs are located in North Campus Residence Complex and West Campus and are accessible and free of charge to all students with their student IDs.
Each lab offers both Macintosh and IBM-compatible computers for use, printers, and a variety of software, including Microsoft Word, Excel, PowerPoint, and high-speed Internet access. If you have questions while using a computer lab, all you have to do is ask a staff member at the residence hall's front desk .
Culture and Educational Programming
We offer programs in each hall nearly every day or evening during the semester. Many programs bring guest speakers to campus including local politicians, business leaders, musicians, artists, and sports figures who visit residence halls and discuss current issues in an informal setting.
Socials are also a fun part of programming and include everything from pizza parties, make-your-own ice cream sundaes, tie-dyeing tees, and beyond. 
Films, videos, performances, exhibitions, sports games and art tours are also regular events in Residence Life programming.
Recreation Equipment
Most residence halls have recreation equipment available for residents' use including pool tables and equipment, foosball tables, and ping pong tables. Most halls also have common area lounges equipped with televisions and cable access for community viewing. Several halls now feature video game rooms (Brownell Hall, Farnham Hall, West Campus, and North Campus) and the North Campus recreation room is equipped with air hockey and a multi-game arcade cabinet. In addition, community lounges within buildings are often the sites for hall programming.
Residence Life Security
Southern believes student safety should be the first priority. The staff in each residence hall regulates visitation and sign-ins, and the Resident Advisor on duty each day periodically tours the building to ensure a safe environment.
In addition, the University Police offer on-call service and assistance 24 hours a day, seven days a week throughout the entire year. Blue emergency lights located directly outside of each hall and emergency phones within the buildings give students the ability to communicate immediately with police in the event of an emergency. 
All phones in the halls are equipped with 911 capabilities for direct access in the event of an emergency, and most residence halls and the West Campus parking garage are equipped with video surveillance equipment.
Residence Hall Tutoring Program
The Office of Residence Life, in partnership with the Center for Academic Success and Accessibility Services, offers a Residence Hall Tutoring program every Sunday from 5:00-9:00pm in the Farnham Programming Space. Snacks and coffee are provided, and all tutoring sessions are free of charge.
Students may also visit the Farnham Programming Space during these hours simply to enjoy quiet study time.
Laundry Tracker
The Laundry Tracker system allows SCSU residents to monitor the status of washers and dryers in the residence halls from the comfort of their own computers. The service is available at no charge to all housing students.
Using the Laundry Tracker system, students can locate an available washer/dryer in their residence hall and view how much time remains for the cycles on machines already in use. In addition, students can ask to be notified via email or text when a machine becomes available.