Students pursuing a degree in the Chemistry and Biochemistry Department receive a strong discovery-based education. Our goal is to pass along to you our enthusiasm and curiosity for chemistry. We want to motivate you to continually question, experiment, and discover the fascinating world of chemistry. We're dedicated to working with you to help you achieve both your personal and professional goals.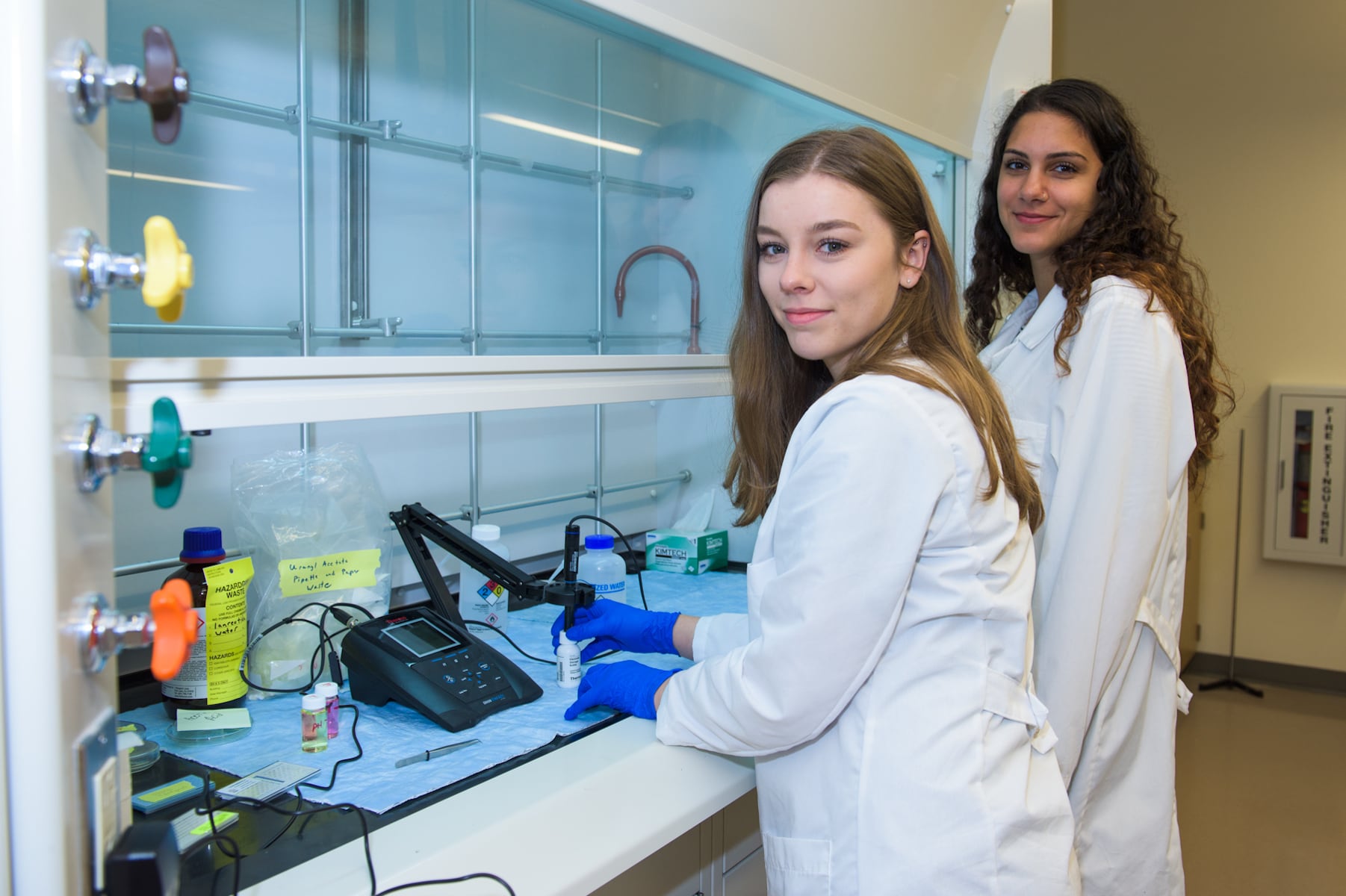 What We Offer
We offer undergraduate education in chemistry with an American Chemical Society-certified degree in chemistry and interdisciplinary specializations in environmental chemistry (with a focus on marine and environmental studies) and biochemistry (with a focus on biology, biotechnology, and pre-medical fields of study).
Programs of study leading to the M.S. degree in chemistry include the 4+1 accelerated M.S. program, Professional Science Master's Degree track, and the M.S. in chemistry, which can also lead to teacher certification.
What You'll Study
Prerequisite courses provide a strong foundation in chemistry with the ability to explore numerous sub-disciplines within the field. You will gain hands-on experience with several state-of-the-art instruments for chemical analysis as well as significant laboratory experience with synthetic, computational, and analytical chemistry techniques. Specific areas of study include: biochemistry, environmental, inorganic, organic, medicinal, physical, and polymer chemistry. Each area provides the foundation to pursue undergraduate and graduate research.
Program Features
Our department houses an impressive array of specialized instrumentation and laboratory equipment to meet the needs for training graduates. Undergraduate programs are accredited by the American Chemical Society, and students are encouraged to participate in faculty-mentored research. Small class and laboratory sizes enable us to teach more advanced and specialized techniques typically limited at larger schools, and this ability provides our graduates with excellent qualifications to be competitive for job placement in the workforce throughout Connecticut. Our students often present research results at local, regional, and national conferences and are often co-authors of peer- reviewed publications. The majority of lectures and laboratory classes beyond the freshman year are taught by full-time faculty members. The recent addition of a 4+1 accelerated M.S. degree option provides a pathway for our students to receive a B.S. and M.S. degree in five years of full-time study with an emphasis on faculty-mentored research.
What Can a Chemistry Major Do?
Chemistry majors are in demand for industry and graduate and medical schools. Recent graduates find placements in many of the local graduate programs and companies. We actively encourage internships to keep students engaged in chemistry during the summer months.
Department Mission Statement
The mission of the Chemistry and Biochemistry Department at SCSU is to provide exemplary graduate and undergraduate education in chemistry for a diverse student population including chemistry majors, minors, and students gaining chemical knowledge for health sciences or the liberal education program. The department actively develops and maintains high standards in teaching pedagogy, teaching effectiveness, and student learning through regular program assessment and instills in its students an ability to contribute as scientific professionals who effectively communicate knowledge in an ethical and environmentally conscious fashion.