Students interested in athletic training can earn a bachelor's and master's degree in just five years through the Southern Connecticut's CAATE accredited Accelerated BS/MAT Athletic Training Program.
Built on Connecticut's longest accredited undergraduate athletic training program, the BS/MAT Accelerated Athletic Training program is organized in a 3 + 2 structure. During the first three years at Southern Connecticut, students complete 98 credits of undergraduate study focusing on prerequisite coursework related to the biological, physical, social, and exercise sciences. During the last two years, students then complete the remaining 62 credits of graduate athletic training courses and clinical requirements before graduating with the MAT degree, where they will be eligible to sit for the national entry-level Board of Certification examination to become an athletic trainer. 
Students completing the 98 credit undergraduate portion of the degree program with an overall 3.0 GPA and meeting all prerequisite courses are admitted into the graduate athletic training portion of the program. Students start their graduate athletic training studies during the first summer after admission into the graduate athletic program. The subsequent study follows the traditional fall and spring semesters schedule, with each semester divided into 8-week block scheduling. One 8-week block is devoted to a period of concentrated classroom study with the second 8-week block dedicated to an immersive clinical experience under the supervision of program approved preceptors.
In compliance with the CAATE requirements, the following chart represents the current Board of Certification Examination:
View Accreditation and Outcomes
Profession
Athletic training encompasses the prevention, examination, diagnosis, treatment and rehabilitation of emergent, acute or chronic injuries and medical conditions. Athletic training is recognized by the American Medical Association (AMA) and the federal government's Department of Health and Human Services (HHS) as an allied health care profession. Athletic trainers are regulated health care professionals in 49 states, including Connecticut. Athletic trainers treat a broad range of patients and can be found in a variety of employment settings. According to the US Department of Labor Statistics, athletic training positions are expected to grow 19% over the next ten years nationally, and 14.6% in Connecticut.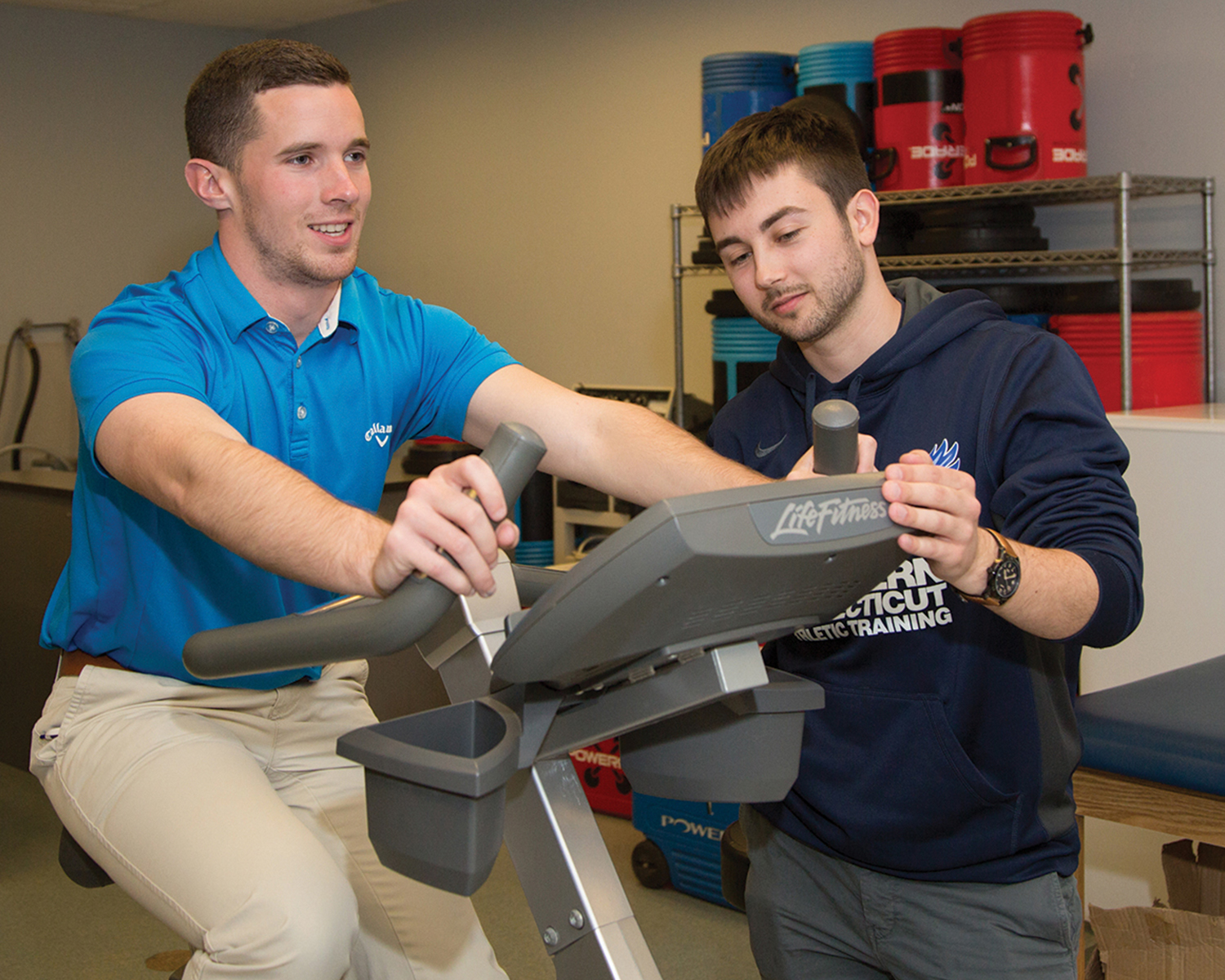 Program Features
State of the art classroom/laboratory under construction to be completed January 2022.
Students can complete their bachelor's degree and Masters in Athletic Training within five years.
Block scheduling enables students the opportunity to focus on classes followed by immersion clinical experiences.
The unique curriculum provides 32 weeks of immersive clinical experience, exceeding the current accreditation standards of four weeks
The first program to meet the State of Connecticut Department of Public Health requirements for employment in the occupational setting
Flexible clinical experience opportunities in Connecticut and beyond
Qualifies for New England Board of Higher Education Tuition Break program for all residents of New England states
Southern Connecticut's Accelerated BS/MAT Athletic Training Program offers students a high-quality education dedicated to academic excellence, access, social justice, and service for the public good. Consistent with Southern Connecticut's commitment to access, the undergraduate portion of our accelerated program provides a high-quality, lower-cost alternative to most other programs nationally and facilitates the admission of transfer students. Students are encouraged to apply to Southern Connecticut as an athletic training major. The Graduate Athletic Training Program at Southern Connecticut State University is accredited by the Commission on Accreditation of Athletic Training Education (CAATE). 
Program Requirements
For details of program requirements and academic maps:
Contact Us