Mission Statement
In adhering to the tenets of Southern Connecticut State University and the Department of Health and Movement Sciences, the Athletic Training Program is committed to establishing itself as a regional and national leader in the preparation of entry-level athletic training professionals who will serve in a wide range of professional settings and become high-quality health care providers and citizens. The program faculty will provide each student with excellent advisement, solid academic instruction and active, instructive clinical experiences while offering opportunities for student research and professional involvement
Southern Connecticut's Master's in Athletic Training program is designed to offer each student a high-quality education with its strong line of academic courses and maximal opportunity for clinical experiences. Built on Connecticut's longest accredited undergraduate athletic training program, the curriculum permits students who completed an undergraduate degree to pursue graduate study in athletic training. Upon graduation, students can sit for the national board examination (Board of Certification, BOC) for athletic training and be eligible for licensure as an athletic trainer nationwide.
Students begin their graduate athletic training studies during that initial summer after admission into the graduate program. Subsequent study follows the traditional fall and spring semesters schedule with each semester divided into 8-week sessions. One session each semester is devoted to a period of concentrated classroom study with the second 8 weeks dedicated to an immersive clinical experience under the supervision of program preceptors.
Acceptance into the Master's in Athletic Training program, requires a 3.0 overall GPA in their undergraduate studies and completion of specific prerequisite coursework. Prerequisite courses can be found in the SCSU graduate catalog or by contacting the program coordinators. We are looking for students who have a solid background in the sciences and an interest in healthcare.
Profession
Athletic training is an allied health profession encompassing the prevention, examination, diagnosis, treatment and rehabilitation of acute and chronic injuries and medical conditions. Athletic trainers are regulated in 49 states to include Connecticut. Athletic trainers treat a broad range of patients and can be found in a variety of professional settings. Athletic trainers can be found providing health care services within high schools, colleges/universities, professional sport settings, performing arts, physician offices, military/law enforcement, hospitals, and several occupational settings.
According to the US Department of Labor Statistics, athletic training positions are expected to grow 19% over the next ten years nationally, and 14.6% in Connecticut.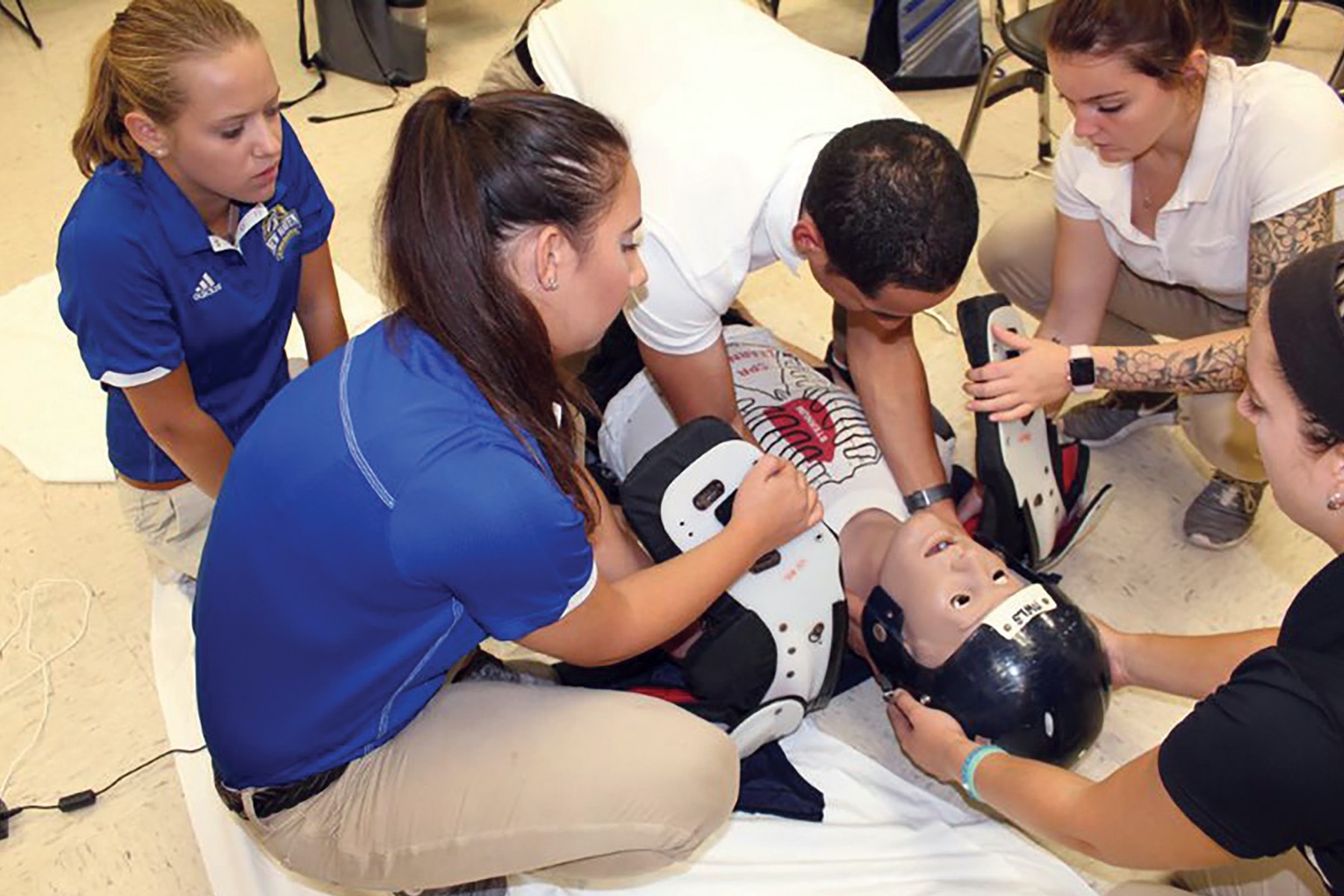 Program Features
State of the art classroom/laboratory under construction to be completed January, 2022
Students can complete their Master's in Athletic Training in 2 academic years and one summer semester
Block scheduling enables students the opportunity to focus on classes followed by immersion clinical experiences.
Unique curriculum providing 32 weeks of immersive experience exceeding national standards of four weeks
First program to meet State of Connecticut requirements for employment in the occupational setting
Flexible clinical experience opportunities in Connecticut and beyond
Qualifies for New England Board of Higher Education Tuition Break program for all residents of New England states
Learning Outcomes
Athletic training students will demonstrate the expectations of a reflective allied health care practitioner who uses evidence-based decision making to enhance patient care and clinical outcomes.
Students will demonstrate the expected knowledge and skills of an entry- level athletic trainer.
Students will demonstrate proficiency in applying clinical skills by providing effective patient care based on evidence-based practice.
Students will complete self-assessments during their clinical education to enhance clinical skills and remediate deficiencies.
Students will demonstrate knowledge of evidence-based practice concepts (Writing a PICO question, locating the best available evidence, and appraising the evidence) to support clinical practice decisions.
Students will incorporate patient outcome models into their relevant clinical experiences.
Athletic training students will promote and contribute to the athletic training profession in anticipation of becoming involved athletic training professionals.
Students will be members of professional organizations.
Students will enhance the athletic training profession and health care.
Athletic training students will model professional and ethical behaviors to represent themselves as future health care providers when interacting with patients, other health care providers and professionals.
In compliance with the CAATE requirements, the following chart represents the current Board of Certification Examination:
View Accreditation and Outcomes
Program Requirements
For details of program requirements and academic maps:
Contact Us
Dr. Matt Rothbard EdD
Program Coordinator, Athletic Training Education
Rothbardm1@southernct.edu