Develop your knowledge to become a leader in the growing fields of human performance, clinical physiology, and sports science research.
Southern is one of only 153 universities and colleges around the world to be honored by Exercise is Medicine® for its efforts to create a culture of wellness on campus. The university earned gold-level designation from the Exercise is Medicine® On Campus (EIM-OC) program, as well as earning EIM's COVID Conqueror Badge, a new honor given to campuses that demonstrated creative adaptations to physical activity programming during the COVID-19 pandemic.
   

Southern's Master of Science in Exercise Science degree program will equip you with the knowledge and skills necessary to address health, wellness, and human performance in a variety of professional settings, allowing you to personalize your education and best meet your specific career goals. Graduates of this program are prepared for roles in health and fitness facilities, clinical rehabilitation programs, strength and conditioning, clinical lab coordinators, and more. 
The 30 to 34 credit program offers concentrations in Human Performance or Sports Psychology, while taught by award-winning faculty and with a curriculum based on the latest research and best practices in exercise science.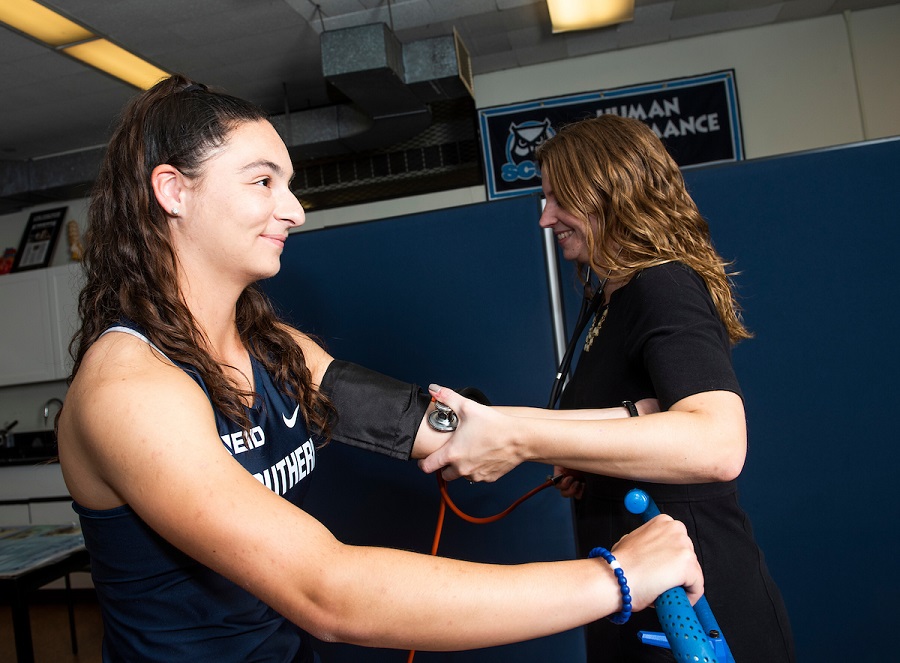 Our Clinical Exercise Physiology concentration prepares students for a career as a Clinical Exercise Physiologist and to gain the experience and knowledge necessary to work with clinical populations to include those suffering from cardiovascular disease, cancer and diabetes. 
Our Sport Psychology concentration is designed to offer the student in-depth, interdisciplinary study in the areas of health psychology, counseling, performance enhancement, and intervention strategies. You will gain the knowledge necessary to assist athletes and other individuals to perform at the highest level with your solid understanding of theory, practical real-life situational practice, and the latest research.
Our Human Performance concentration offers students the opportunity to acquire in-depth knowledge and practice in the exercise sciences. As one of only 12 accredited graduate programs across the nation, our students work closely with our faculty in the classroom and with one of our ongoing research projects. This program includes courses in such areas as exercise physiology, biomechanics, strength and conditioning, aging, fitness programming, and adult fitness.
Program Highlights
We are one of 12 national graduate programs accredited by the Commission on Accreditation
 of Allied Health Education Programs (CAAHEP) and the only accredited program in the state
 of Connecticut
There are thesis and non-thesis options as part of your degree program 
Our M.S. degree program is one of the most affordable in New England and we offer several graduate teaching and research assistantships to qualified students
Classes are offered in a variety of formats -- on campus, hybrid, and online.
Program Requirements
Visit the graduate catalog for for application deadlines and program requirements.