Building a higher education bridge across 'the pond': SCSU teams with Liverpool counterpart to offer collaborative programming and new study abroad opportunities for students.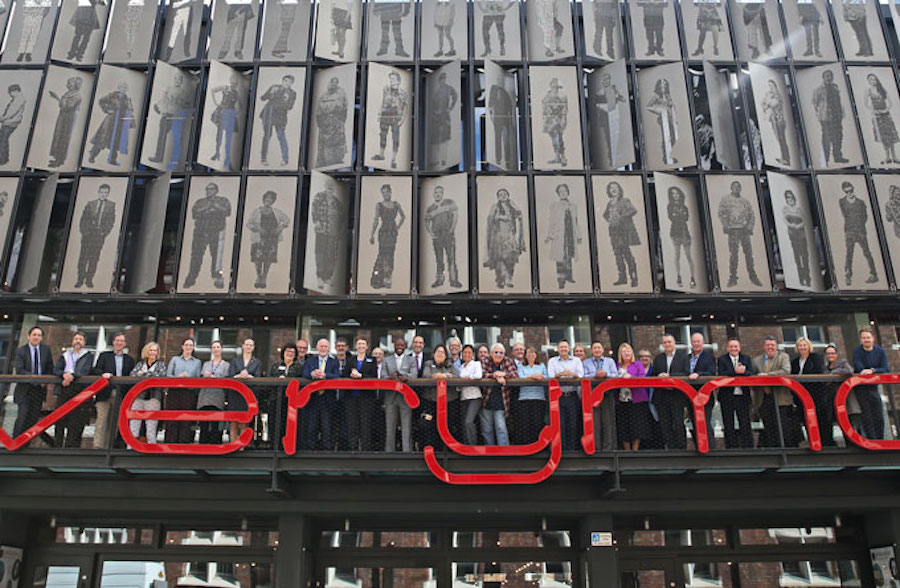 In the year that Cunard Line celebrates the 175th anniversary of its first crossing between Liverpool and New England, Liverpool John Moores University and Southern Connecticut State University jointly announce a new trans-Atlantic alliance offering increased opportunities for students at both institutions.
The collaborative agreement will give students the chance to study on both sides of the Atlantic Ocean, as well as benefiting from dual taught programs, delivered by LJMU and SCSU faculty through video link and guest lectures. There will also be opportunities to take part in field trips with both sets of students, and joint research projects are being comprehensively planned. By 2017 it is anticipated that hundreds of students will benefit from the opportunity to study in New Haven, Conn., and Liverpool.
"Our goal is for every student within each of our universities to have the opportunity to study abroad," said LJMU Vice-Chancellor Professor Nigel Weatherill. "We also plan to develop a distinctive portfolio of dual programs that will be delivered across both campuses and attract students from across the world to our institutions."
There are a range of commonalities between the two universities, including programs, student demographics and faculty structure. LJMU and SCSU share a similar mission: to provide access to higher education to a diverse population of students, support the development of skills and knowledge capabilities in a multitude of disciplines, and embrace the challenges and opportunities of the 21st century.
"In our increasingly inter-connected world both SCSU and LJMU recognize that skills development and problem-solving require universities to be globally connected, providing students with international opportunities and supporting staff engagement with international networks," said SCSU President Mary A. Papazian.
The alliance was formalized during a recent visit from by a Southern delegation to LJMU. Faculty from both institutions specializing in Anthropology, Business, Computer Science, Creative Writing, Geography, Environmental Studies, Nursing, Public Health, Sport & Leisure, and Tourism & Event Management worked together to identify areas that will be developed under the new alliance. 
 

In Liverpool, SCSU faculty spent time on location at sites that held promise for joint research and student engagement. For example, James Tait, professor of science education and environmental studies, joined geography colleague Alyse Zavar at Formby Point, home of the United Kingdom's largest collection of sand dunes. Erosion issues there are very similar to those that Tait has been researching with Southern students along the Long Island Sound shoreline in the wake of recent hurricanes.
Anthropology colleagues Michael Rogers and Kathleen Skoczen visited an archaeological site in Poulton, Cheshire, where LJMU students are participating in the excavation of a grave site that dates back to the Bronze Age. More than 800 sets of human remains have been uncovered so far, along with pottery, Roman tiles and jewelry more than a thousand years old. Public Health Department Chair Jean Breny and Graduate Coordinator Michael Mink spent a day at LJMU's Centre for Public Health, listening to presentations on substance abuse, sexually transmitted diseases and sexual violence, all of which are areas of research at Southern.
"We are looking to grow complementary research strengths, skills and capabilities, and we will also add to our teaching and learning capabilities through cooperative academic activity, developing virtual spaces for online learning, and expanding our student exchange programs," Papazian said.
With its home in the historic port city of Liverpool, LJMU traces its roots back nearly 200 years to 1823 and the opening of the Liverpool Mechanics' Institute. Over the decades, the institute merged with other institutions to become Liverpool Polytechnic; traditionally providing training, education and research to the maritime industry, before earning university status in 1992. Now ranked among the top 400 universities world-wide, LJMU offers 250 degree courses to 25,000 students drawn from more than 100 countries.
The LJMU-SCSU Alliance is unique in its scope and intent. While both the UK and U.S. higher education sectors are recognized as internationally pre-eminent, collaboration across the Atlantic remains surprisingly small-scale.
"Building a strong trans-Atlantic alliance between New England and North West England will position both universities to compete more strongly in their domestic markets and provide distinctive opportunities to new staff and students," Weatherill said.
Guiding the alliance is a joint development group jointly chaired by LJMU Pro-Vice-Chancellor (External Engagement) Edward Harcourt, and SCSU Provost Bette Bergeron. Discussions have been underway for 15 months and the development group will be meeting quarterly in 2015-16 to finalize the development of the alliance.