Financial decision making is at the heart of any corporate organization, bank or financial services company. You will learn about the key aspects of financial decision making through a wide variety of courses focused on topics such as; Corporate Finance, Investments, Derivatives, International Finance, Banking, Investor Behavior, Treasury Management and Financial Risk Management, to name a few. You also have the opportunity to get hands-on money management experience through our student-managed investment fund. Our faculty are exceptionally qualified, well-published in their respective areas and they strive to provide you with the highest quality of education by bringing their scholarly achievements and industry successes into the classroom. We offer daytime and evening classes, so that our class schedule may be wrapped around your work schedule.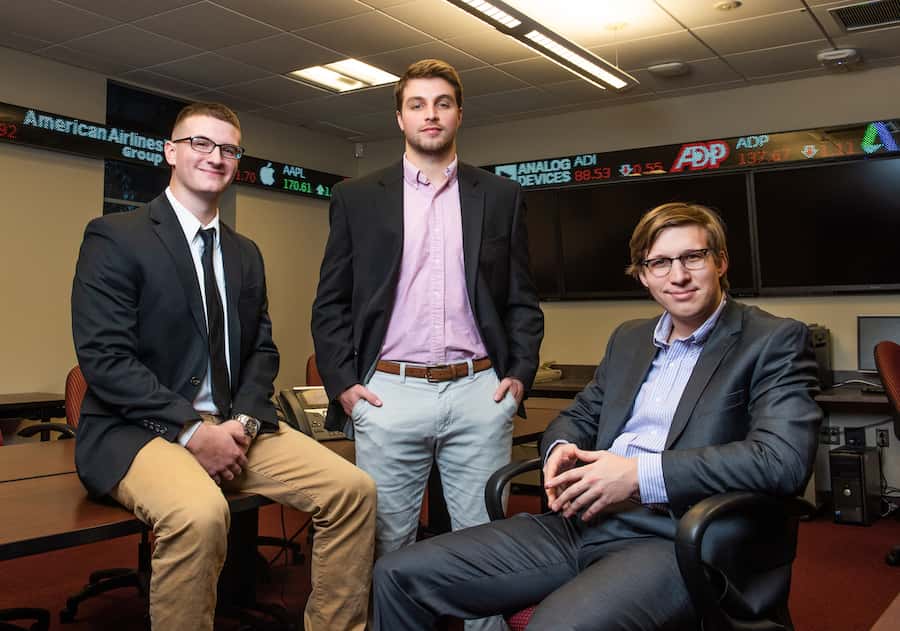 Why Study Finance?
According to the U.S. Bureau of Labor Statistics, a finance degree is among the highest-paying and most marketable degrees in business. Our carefully crafted finance curriculum includes courses that cover all areas within the finance discipline such as, Treasury Management & Banking, Investments & Portfolio Management, Financial Risk Management and Real Estate Finance.  Our rigorous and updated curriculum provides students with both theoretical and practical knowledge on all of the abovementioned areas and prepares them for successful careers in the financial services industry and in other non-financial sectors.
The solid foundation that our coursework provides, combined with our affiliations with professional certificate granting agencies, prepare our students for professional certification exams such as, CTP (Certified Treasury Professional), SIE (Securities Industry Essentials) and motivate some of our students to pursue graduate education as well. The prestigious professional certifications, that we prepare our students for, are highly coveted in the financial industry and enable them to launch lucrative careers in banking, financial brokerage, financial advising, treasury management, financial risk management, real estate and in other financial areas. The details of our required finance courses are as provided below:
Corporate Finance courses focus on financing and investment decisions in firms, as well as issues concerning corporate governance.
Investments focuses on financial instruments such as stocks, bonds, options, futures and management of asset portfolios. This knowledge may then be applied in gaining hands-on money management experience through our student-managed investment fund course.
Behavioral Finance helps in building a solid foundation on investor behavior.
International Finance helps in developing a practical and theoretical understanding of foreign currencies, exchange rates, arbitrage conditions, as well as currency risk management using currency derivatives.
Financial Markets and Institutions provides a thorough understanding of the financial principles that govern the banking and the financial industry, both in domestic and global financial environments.
Financial Modeling trains you to handle a wide variety of financial problems/issues using Excel spreadsheets.
In addition to the required courses mentioned above, our students are required to choose one specialization track, from the following four options; Treasury Management & Banking, Investments & Portfolio Management, Financial Risk Management and Real Estate Finance. Each track includes four elective courses as printed below:
Treasury Management and Banking: Financial Risk Management, Commercial Banking, Treasury Management and Entrepreneurial Finance & Venture Capital.
Investments and Portfolio Management: Introduction to Futures and Options, Security Analysis and Portfolio Management, Business Valuation and Practicum in Investing.
Financial Risk Management: Financial Risk Management, Quantitative Methods in Financial Risk Management, Introduction to Futures & Options and Security Analysis & Portfolio Management.
Real Estate Finance Principles of Real Estate, Real Estate Finance, Urban Economics and Seminar in Real Estate.