The Human Performance Laboratory, located in room 178 of the Health and Human Services building, offers numerous fitness, performance, and functionality assessments to members of the public and the SCSU community. The lab is staffed Monday through Friday during the fall & spring semesters, generally from 8:00 am - 5:00 pm.  Appointments are scheduled 24 hours in advance.
Please call the lab at (203) 392-6039 or message the lab email at scsu.humanperformance@gmail.com to schedule an assessment.
The Bod Pod is an instrument used to determine body composition. It measures a person's total body density using air displacement. It is a similar technique to the hydrostatic underwater weighing technique, but water submersion is not required.
Student $40
Alumni $50
Faculty & Staff $60
General Public $75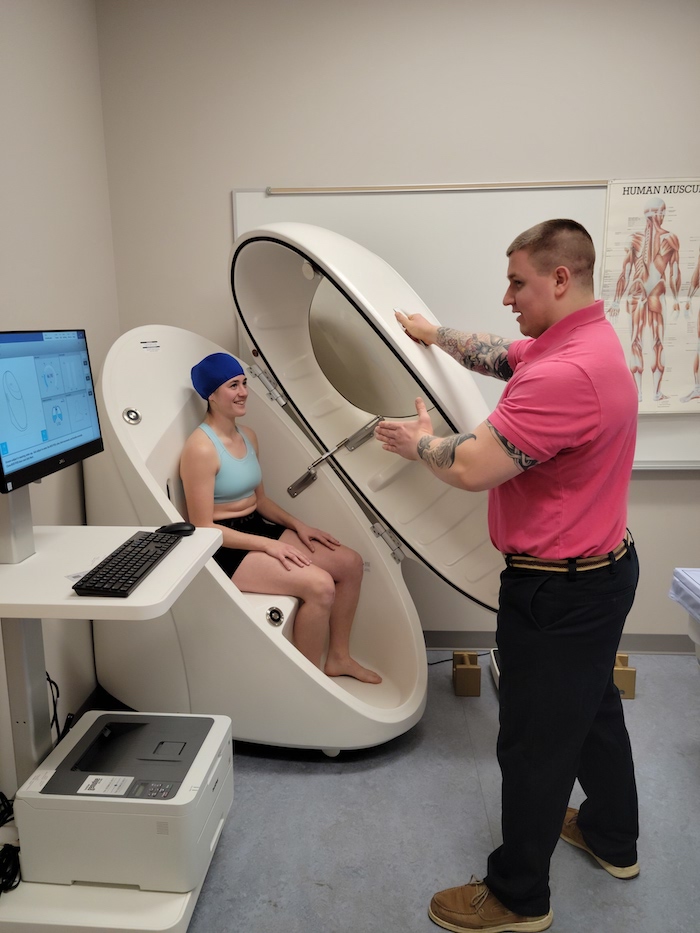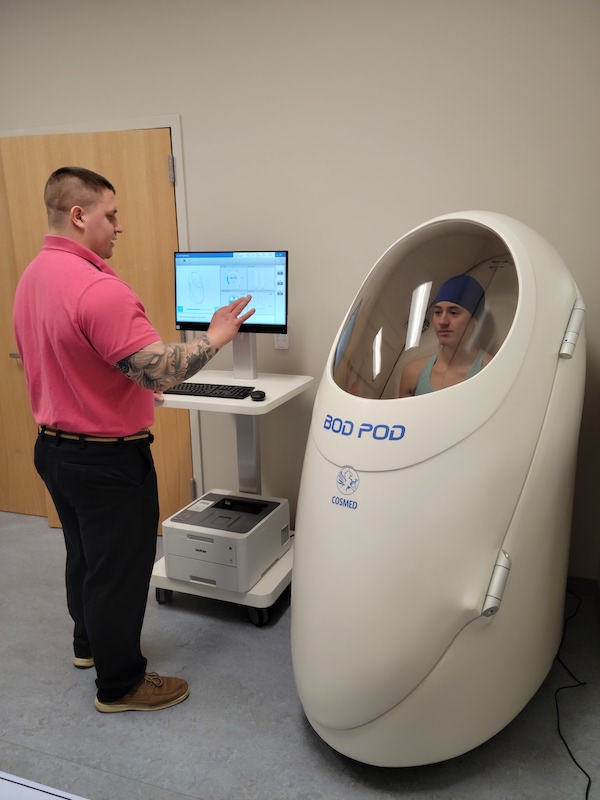 The skinfold measurement test is one of the oldest and most common methods of determining a person'sbody composition. This test estimates the percentage of body fat by measuring skinfold thickness at specific locations on the body. The thickness of these folds is a measure of subcutaneous adipose tissue.
Student $5
Alumni $10
Faculty & Staff $15
General Public $20
Age limit of 65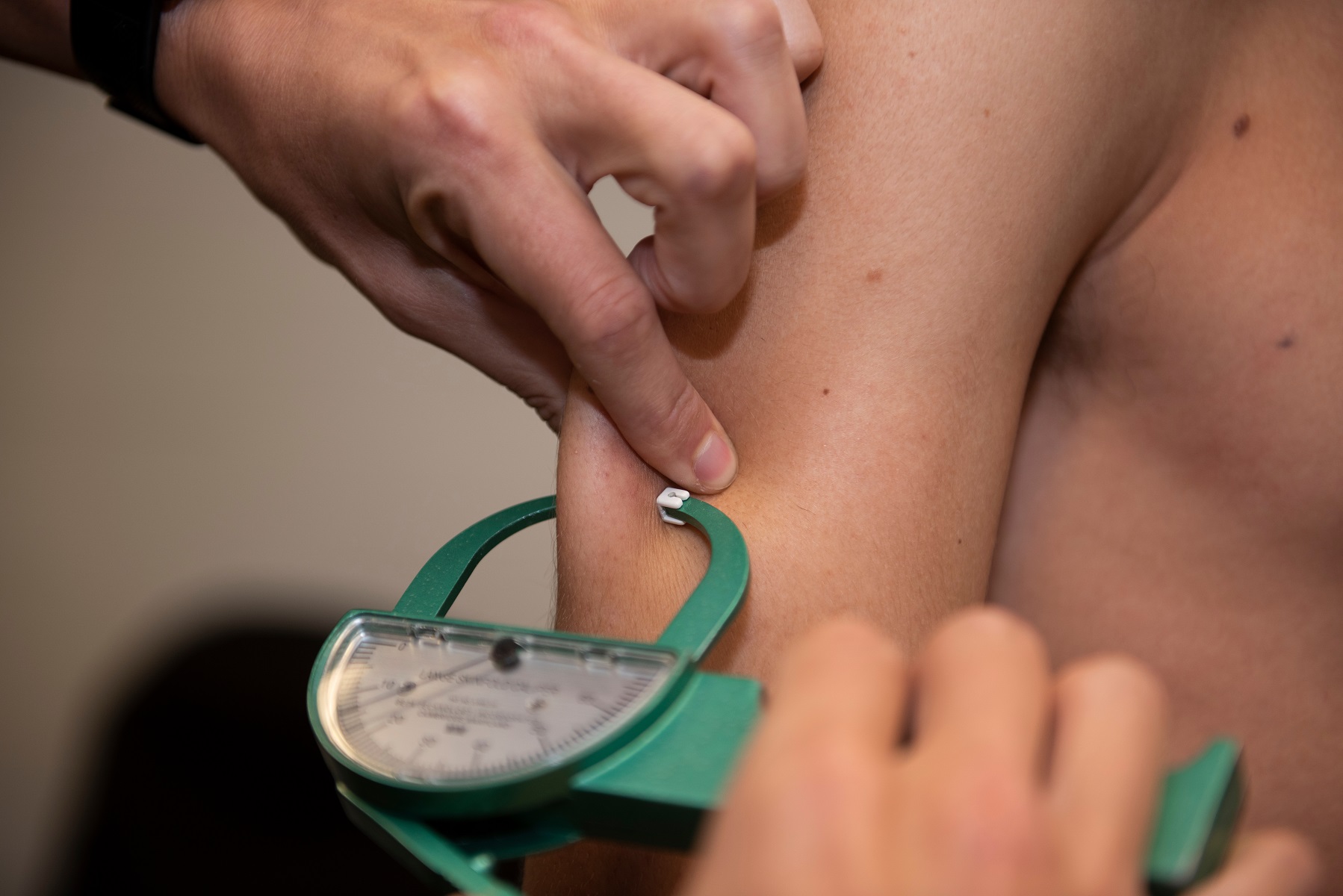 The Aerobic Performance Package includes a VO2max test and a lactate threshold test.  Either test is conducted on a treadmill or cycle ergometer. The VO2max test brings the athlete to maximal effort within 15 minutes and provides useful data such as maximal heart rate, metabolic efficiency, and ventilatory data.  The lactate threshold is a modified version of the VO2max test, lasting longer with longer individual stages.  The athlete works at gradually increasing workloads while having a small blood sample taken at the end of each stage.  The highest exercise intensity that can be sustained for approximately an hour is obtained, and the athlete can use this value to modify their workout intensity of their personal training program.  
VO2max only:
Student $60
Alumni $90
Faculty & Staff $110
General Public $150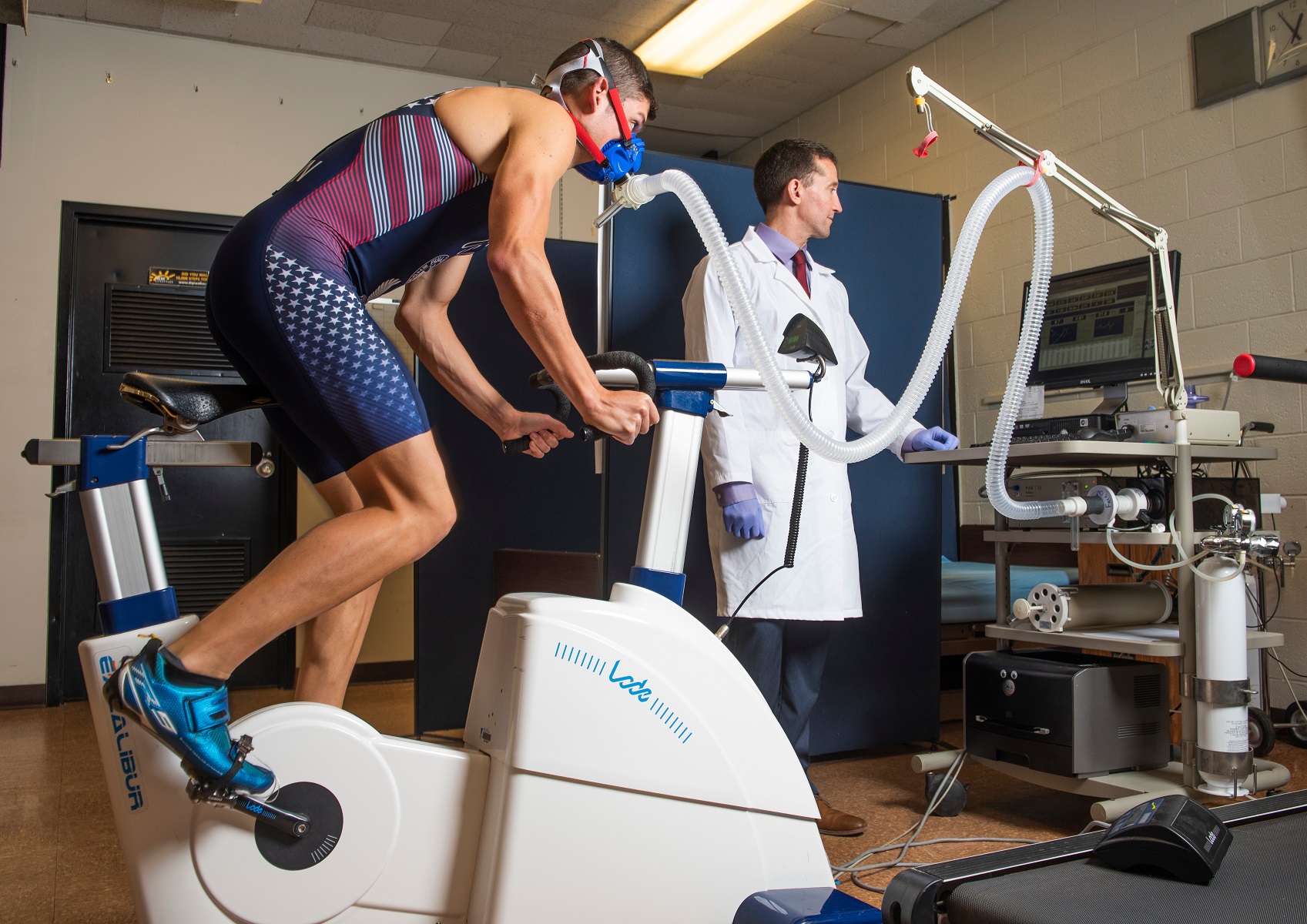 Lactate threshold only:
Student $100
Alumni $150
Faculty & Staff $200
General Public $250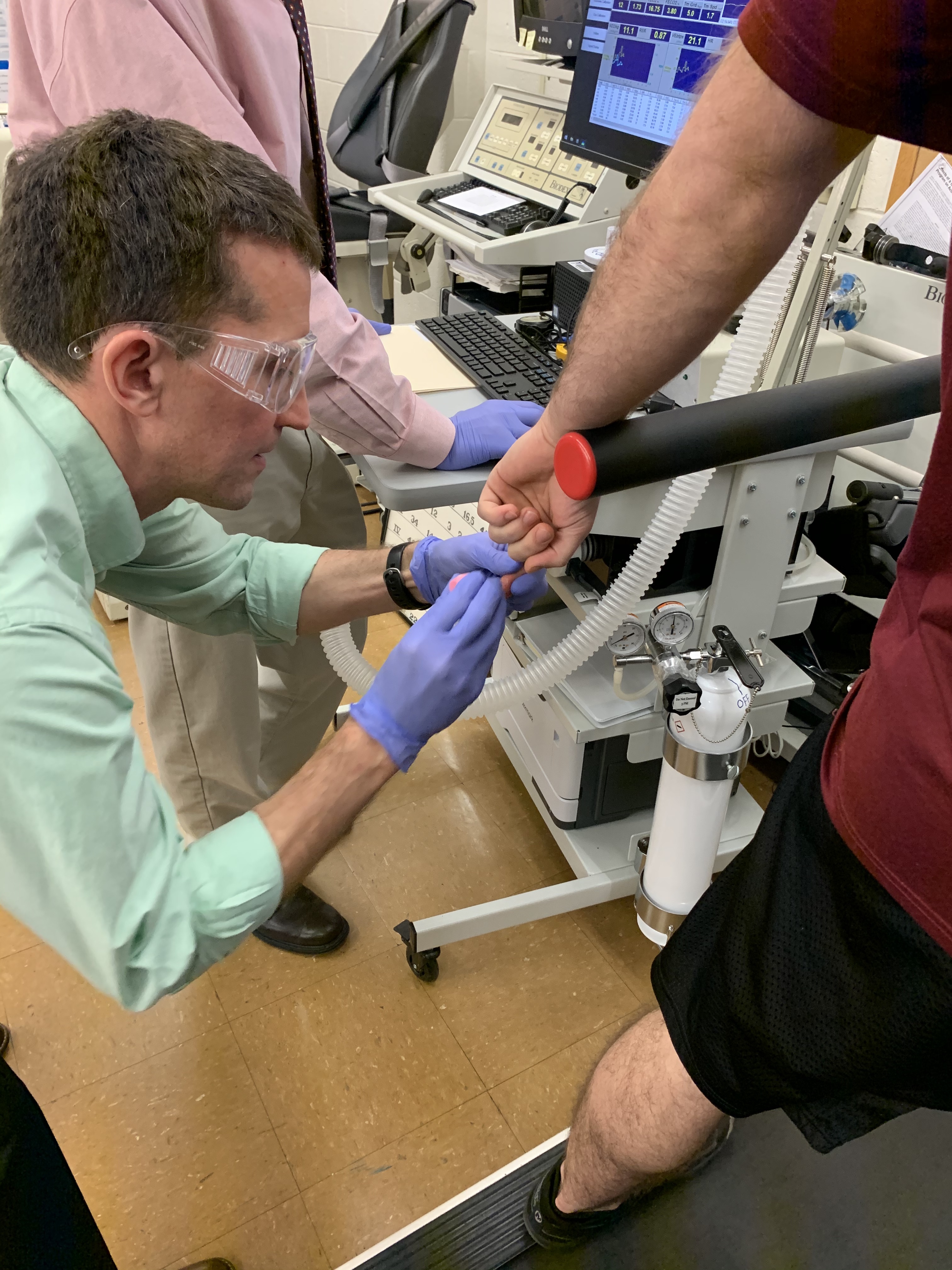 Package pricing:
Student $140
Alumni $220
Faculty & Staff $280
General Public $350
An estimation of cardiovascular fitness using the YMCA protocol. Submaximal effort by the participant.
This is a submaximal VO2 cycle ergometer aerobic fitness test. Based on the subject's heart rate response to several submaximal workloads, we can graph the work load, and predict VO2 max, they would have reached if they had continued until their maximum heart rate.
Student $10
Alumni $17
Faculty & Staff $30
General Public $65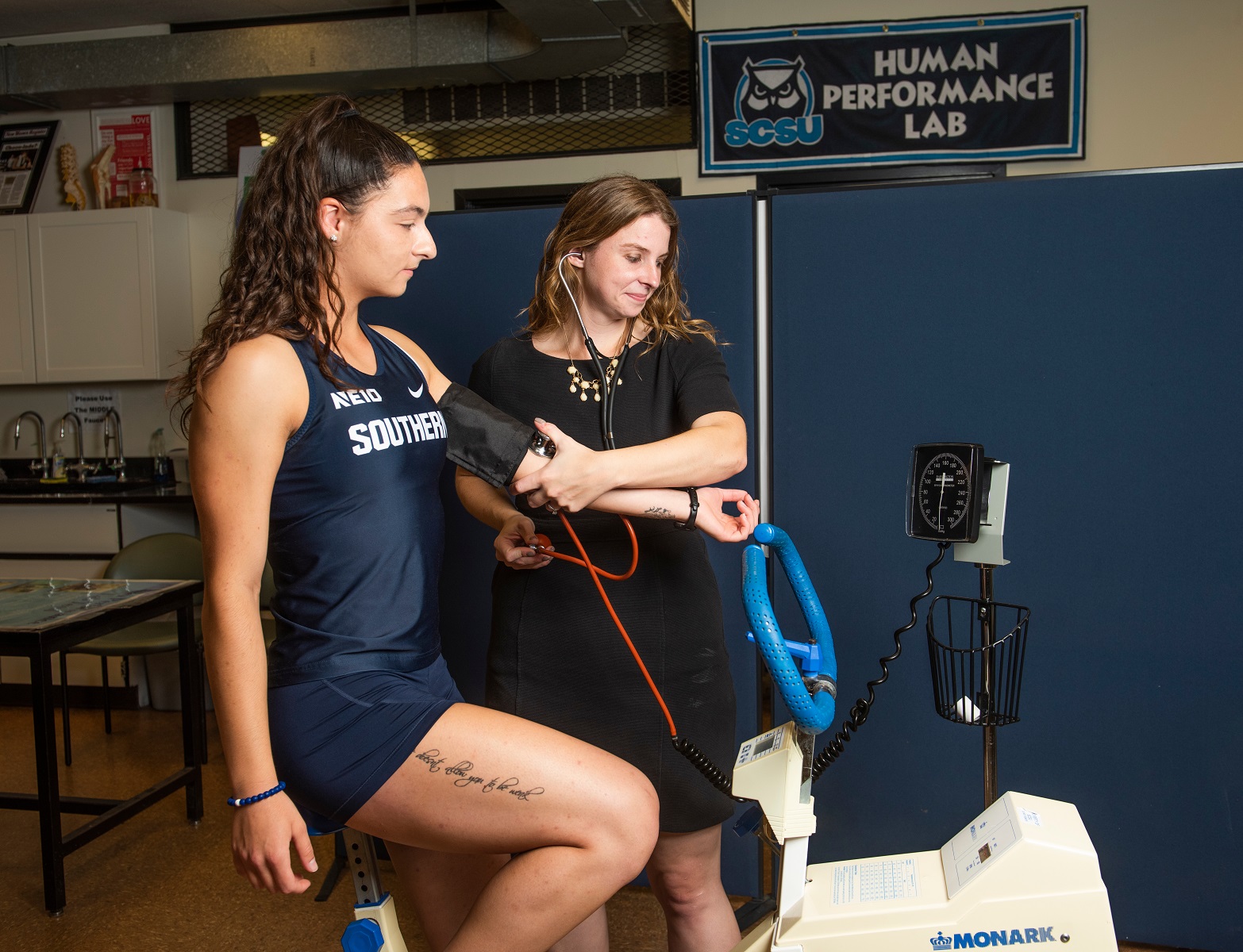 Exercise testing with 12-Lead ECG is a cardiovascular evaluation with electrocardiogram function. This test will analyze the rhythms of the heart during increasing exercise intensities reaching maximal intensity.
Student $50
Alumni $75
Faculty & Staff $105
General Public $180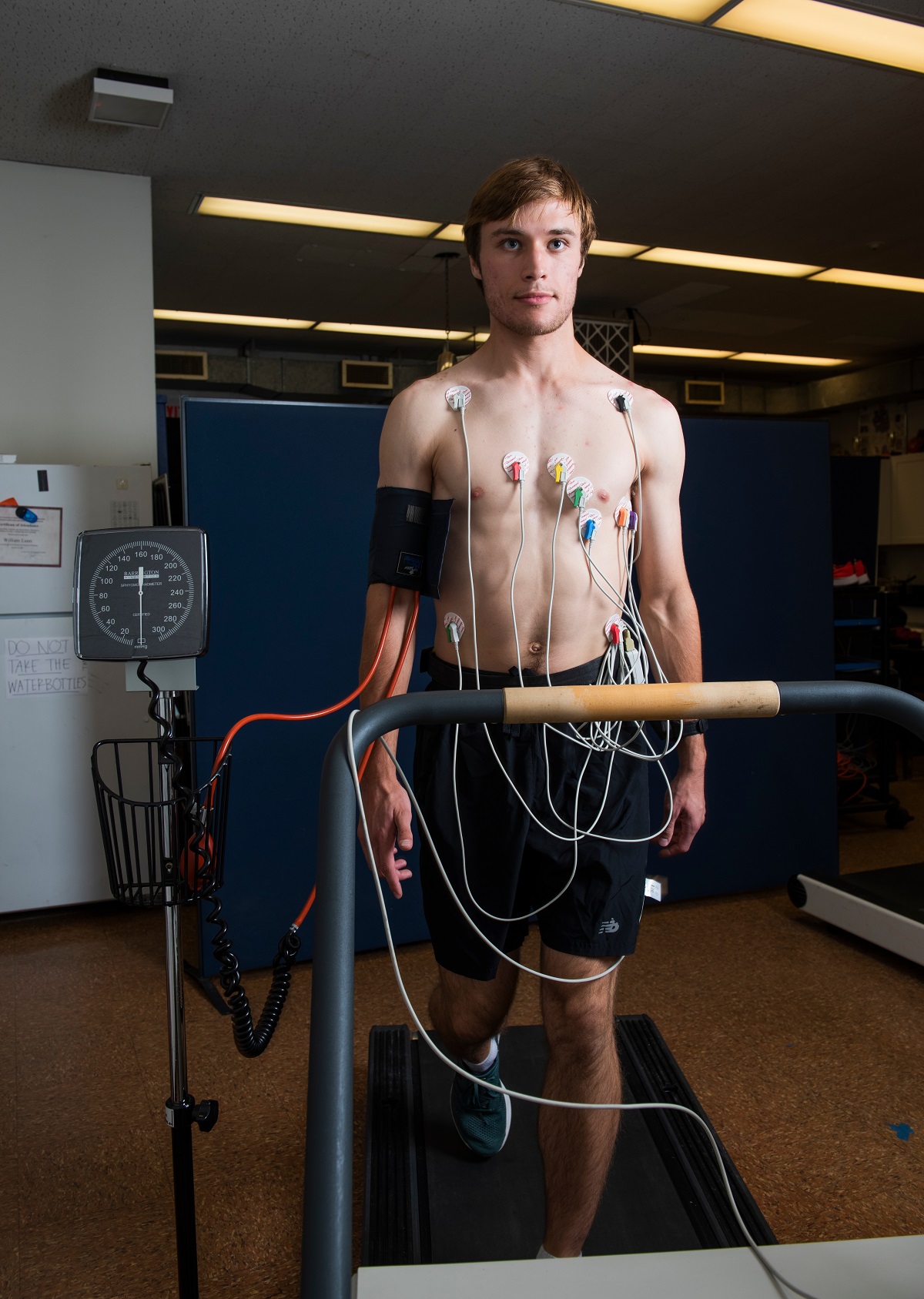 The Wingate test is an anaerobic exercise test, performed on a stationary bicycle, that measures peak anaerobic power and anaerobic capacity. Short sprinting events rely heavily upon the anaerobic energy pathways during execution. Anaerobic power and capacity have been reported as important factors in sports with quick, all-out efforts.
Student $15
Alumni $20
Faculty & Staff $25
General Public $50
Strength and muscular endurance can be measured extremely accurately through the use of an isokinetic machine. The data from these tests can then be used to help us plan a patient's rehabilitation activities following an injury.
Student $50
Alumni $55
Faculty & Staff $65
General Public $75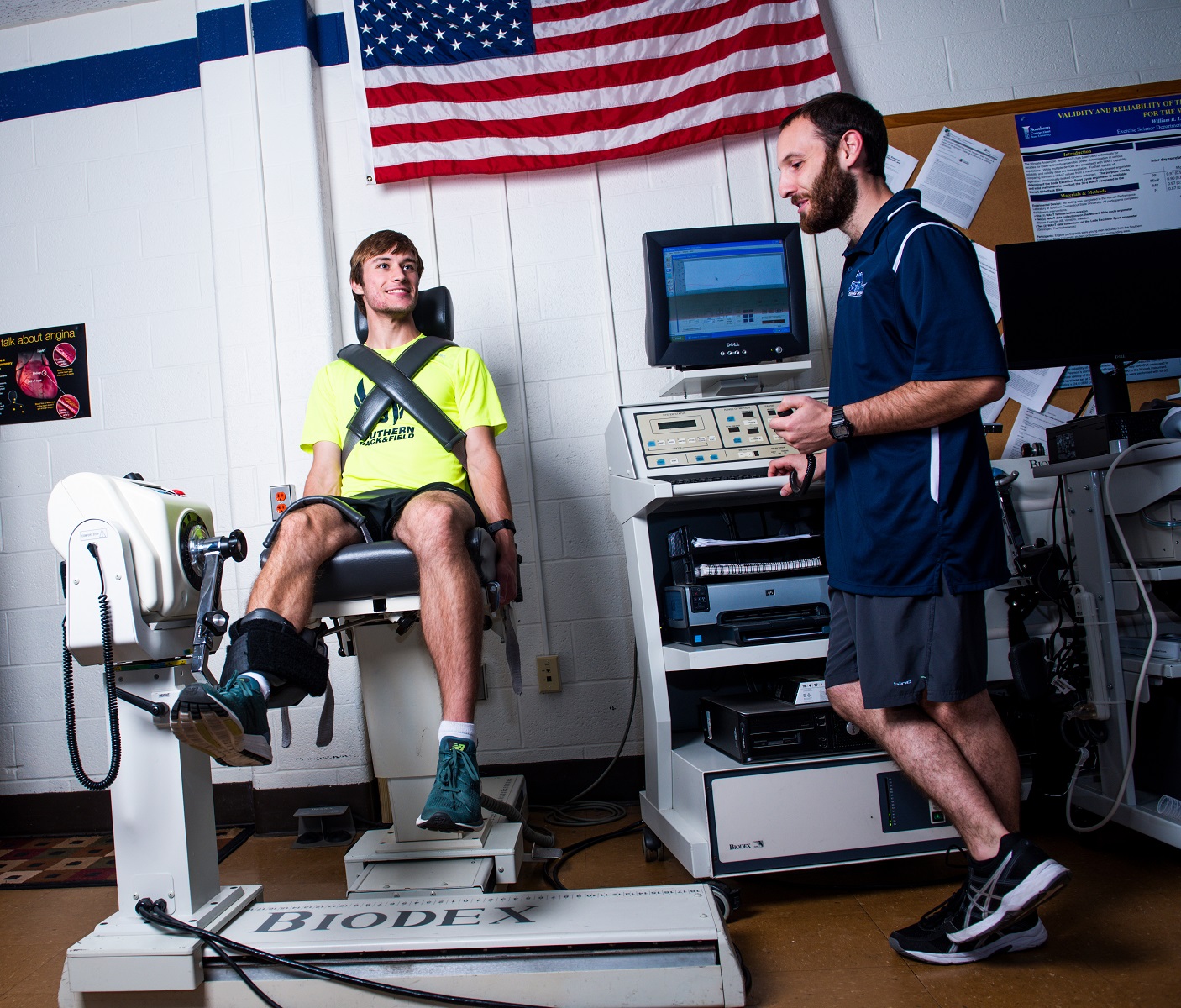 Tests offered:
Vertical jump - The vertical jump test measures the power of the lower extremities. By recording the maximum height reached on the Vertec, a client will be able to compare jump heights before and after a training cycle to see if their training has resulted in positive adaptations.
10- or 40-yard sprint – This test measures the speed of an athlete moving in one direction starting from a still position.
5-10-5 test (Pro Agility Test) – This test measures the ability of an athlete to quickly change directions in the same plane while running.
Price list:
Student $20
Alumni $40
Faculty & Staff $60
General Public $80
Resting metabolic rate refers to the amount of energy needed to maintain respiration, circulation, muscle tone, body temperature, glandular activity and the other functions. Measurements of carbon dioxide and oxygen used provide information to predict how many calories a person uses at rest to maintain life.
Students: $45
Alumni: $65
Faculty & Staff: $80
General Public: $105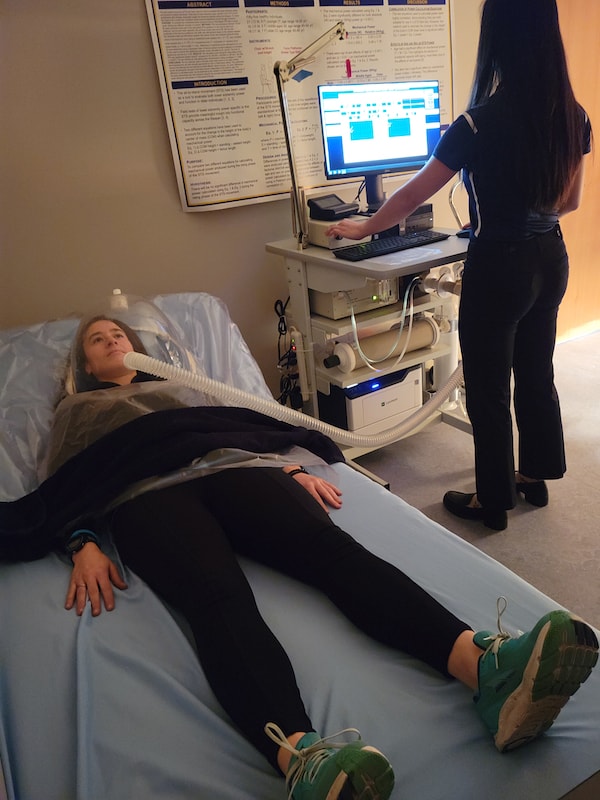 Lactate threshold is defined as the intensity of exercise at which lactate begins to accumulate in the blood at a faster rate than it can be removed. This threshold can indicate to an athlete the power output or heart rate at threshold. With this information an athlete can develop training zones at the level of intensity to perform at in competition.
Student $100
Alumni $150
Faculty & Staff $200
General Public $250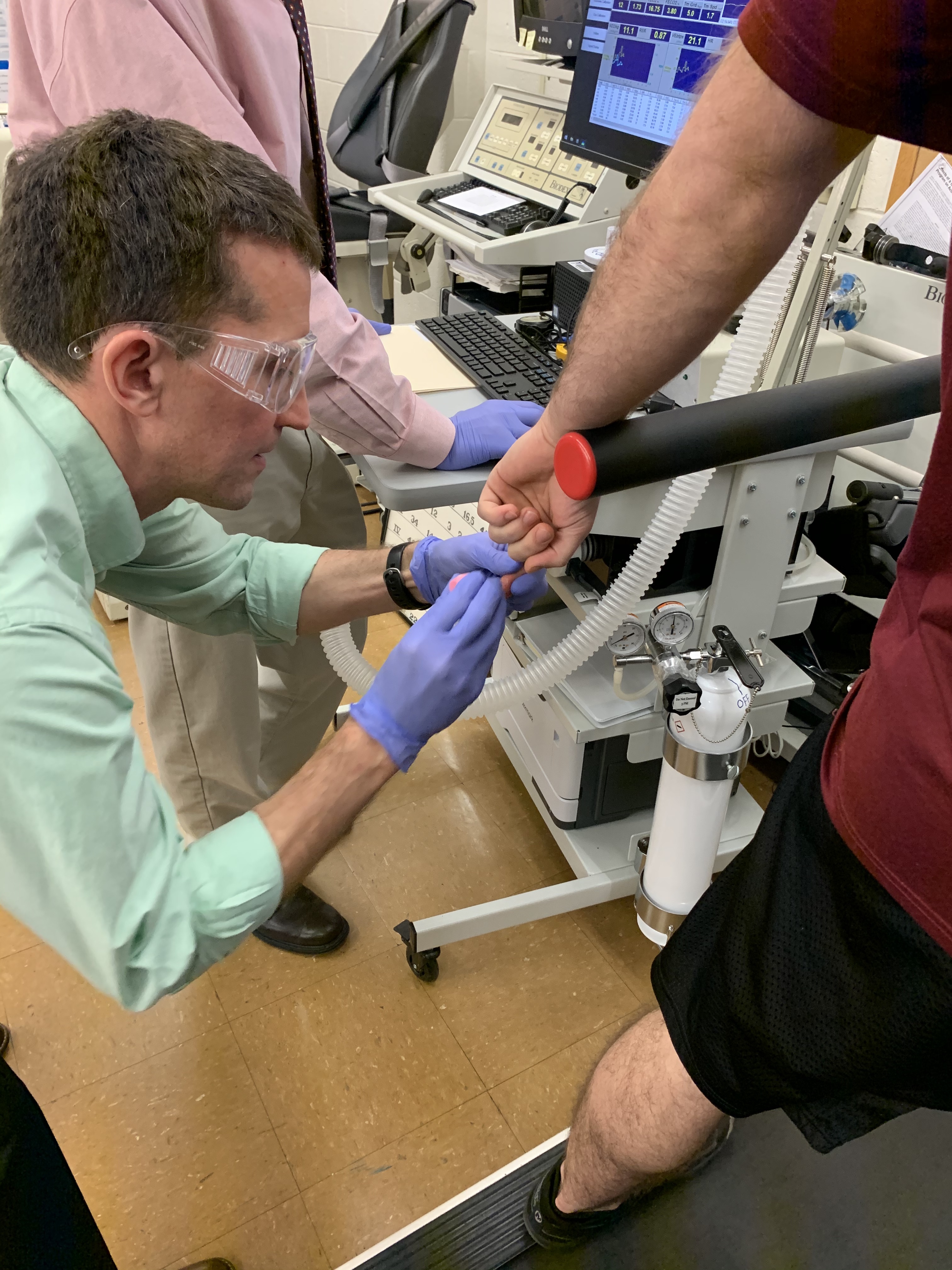 The Running Injury Clinic aims to provide real-time performance assessment with our State-of-the-art technology. High speed video tells our sports medicine specialists what every joint in the body is doing, helping participants improve their running performance. This technique also allows us to pinpoint potentially injury-inducing joint movement and correct it, thus promoting the long-term health of the participant in life and sports.
Technology:
MYOPressure
3D Gait motion capture system
Location: Room 104 (Biomechanics Laboratory) in Health and Human Services Building.
To set up an appointment: contact Dr. Robert Gregory, Director of the Connecticut Running Injury Clinic, at 203-392-6036 or gregoryr3@southernct.edu.
Prices:
Student $100
Alumni, Faculty & Staff $200
General Public $250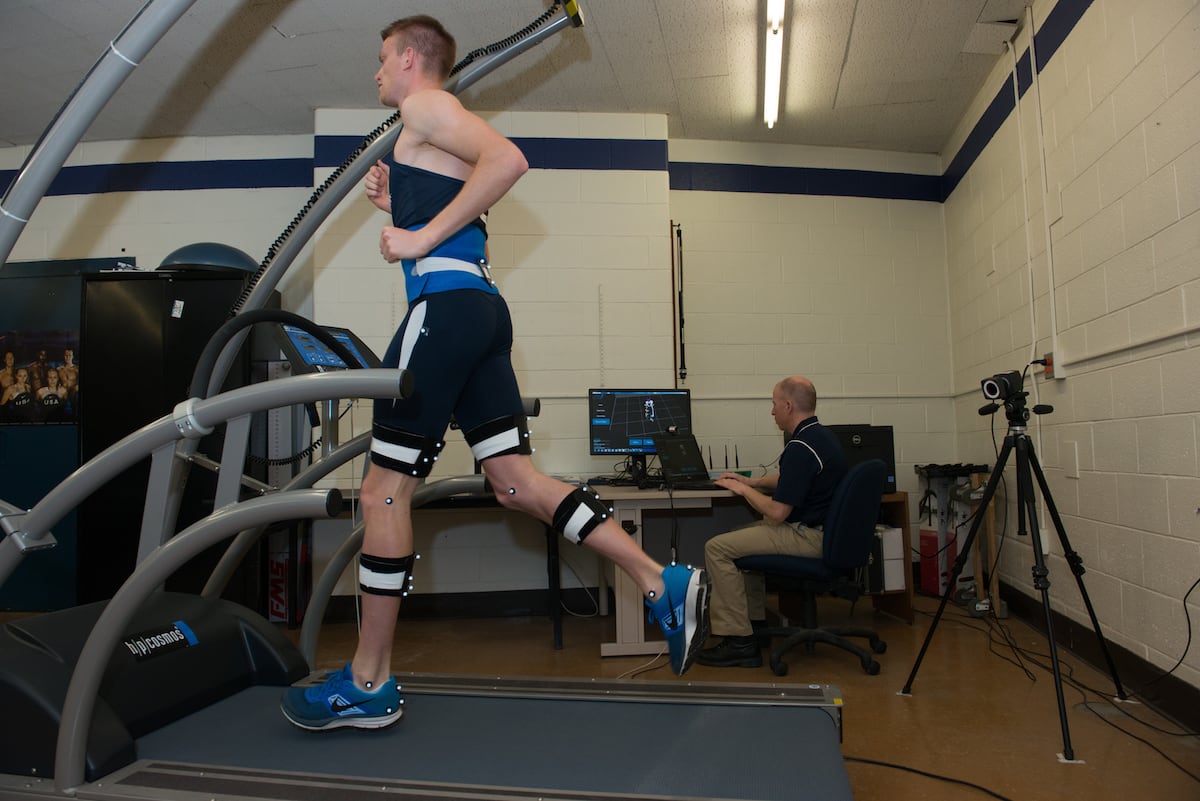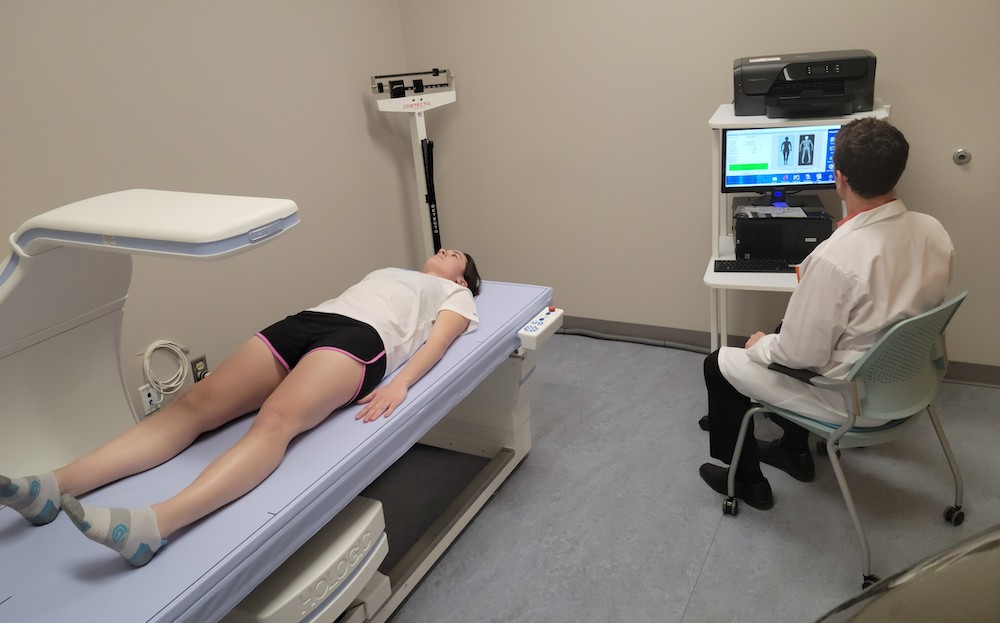 DXA is an instrument that uses low-dose X-ray radiation to determine body composition.  It can differentiate water, muscle & bone, and fat.  Radiation exposure is similar to that of an X-ray scan at the doctor or dentist, and similar exposure to atmospheric radiation on a cross-country flight.  Females who are pregnant or think they may be pregnant should consult their physician before performing a DXA scan.
Student $40
Alumni $50
Faculty & Staff $60
General Public $75