Whatever musical instrument you play, or wherever your musical preferences lie, we have a performance group for you.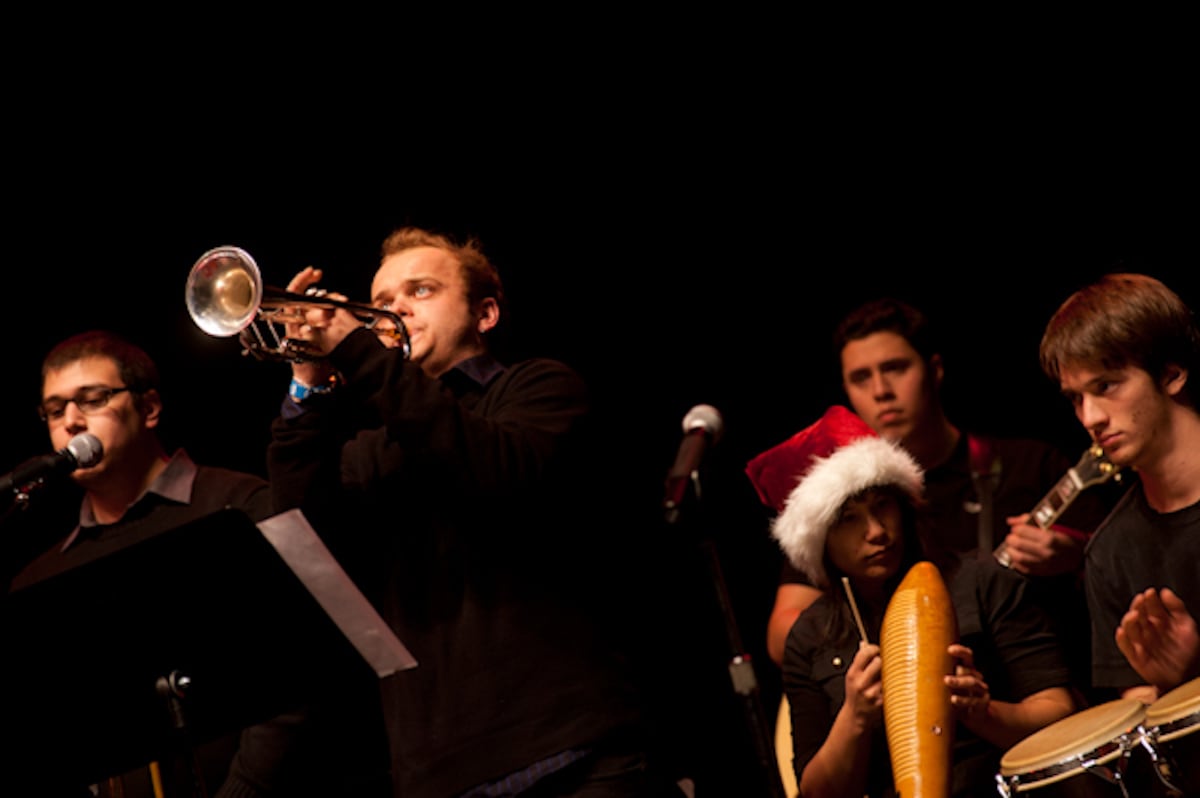 University Choir
Music of all periods and styles is studied and performed by this group of mixed voices. The choir represents the university in concerts and at festivals. Membership is by audition. Contact Terese Gemme for more information.
Symphonic Band
The Southern Connecticut State University Symphonic Band is dedicated to providing an intellectually-stimulating, musically-challenging, dynamic, and diverse ensemble to the students and faculty of SCSU, while concurrently serving the musical needs of the entire Greater-New Haven community. Repertoire is focused primarily on the staples of the wind band idiom (often presenting works by Holst, Vaughan Williams, Ticheli, Holsinger, and Sousa), but balances programs with selections from various time periods and musical styles. Membership is open to all interested students at SCSU (both undergraduate and graduate), SCSU faculty and staff, as well as to community members who share the group's desire and dedication to learn and perform at consistently high levels. The ensemble regularly presents public concerts at various venues across the region, including several annual performances on the SCSU campus. The group is frequently invited to perform at concerts and festivals throughout the state and welcomes the opportunity to work collaboratively with others who share in our passion for music. Anyone who is interested in acquiring more information about the ensemble or is interested in joining should contact Craig Hlavac.
Chamber Singers
A small ensemble of mixed voices that performs repertoire of various musical and cultural styles, including acappella music. Membership is by audition.
Jubilee Singers
Jubilee Singers is a university choral performance group whose focus is the music of African American culture. This includes Black spirituals, gospel, folk genres, and the music of various African American composers. The group performs both on and off campus. Call the Music Department at (203) 392-6625 or contact Thomas Mitchell for more information.
Percussion Ensemble
Percussion Ensemble is a small ensemble that performs classical and contemporary works for mixed percussion.
String Ensemble
String Ensemble is a small, chamber ensemble open to selected string instrumentalists upon successful audition.
Jazz Standards Ensemble
The Jazz Standards Ensemble is a small group of highly-skilled students dedicated to preparing and performing standards of the jazz combo repertory. Open to all students upon successful audition.
Latin Jazz Ensemble
The Latin Jazz Ensemble is a group of instrumentalists dedicated to the interpretation and performance of Latin music. Open to all students upon successful audition.
Blues Ensemble
The Blues Ensemble is a dynamic, high-energy ensemble that prepares traditional and contemporary blues charts. Open to all students upon successful audition.
Drumline
The Drumline is a collaboration between the Music Department, SCSU Athletic Department, and New Haven Public Schools. The group performs at selected SCSU home football games, primarily during halftime. Those selected will be required to attend all rehearsals. Call the Music Department at (203) 392-6625 or contact Eric Green, drumline coordinator, for more information.