The emphasis we have on experience-based learning results in high rates of post-graduate employment. Our alumni work. One look at the staff directory of any of the award-winning theaters in the near region will reveal Southern grads. Recent graduates have gone on to jobs in film and television, education, regional theater, and New York theater. They are actors, producers, stage managers, teachers, make-up artists, ballroom dancers, marketing directors, event managers, designers, and technicians. They have also gone on to top-tier graduate programs in arts management, educational theater, film studies , playwriting, and design.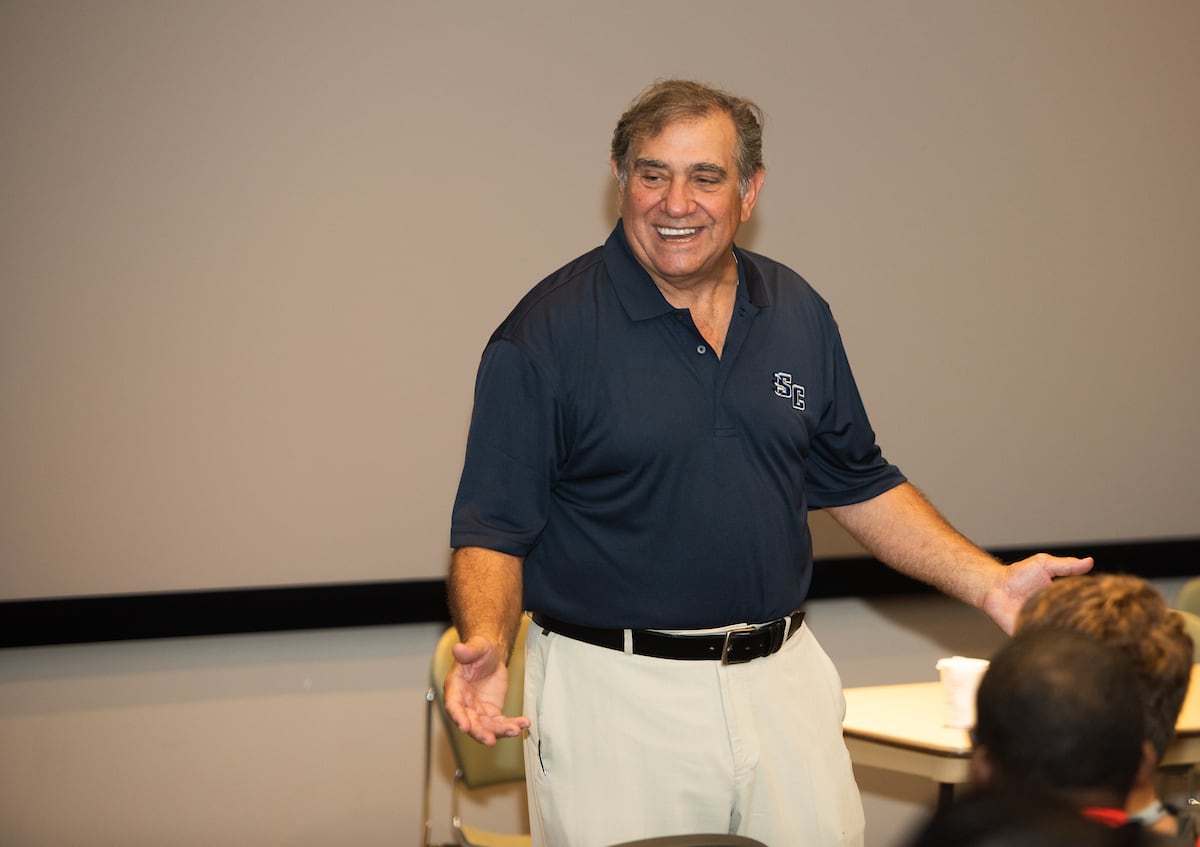 Theater Educators
Michael Crowley
Rebecca Pawe
Dan Sarnelli
Ben Fusiner
Karl Gasteyer
Julian Schlusberg
Joseph Julliano
Raphael Massie
Michael V. Skinner
Danielle Szymaszek
Rebecca Welles
Actors and Actresses
Tony Amendola (1974)
He's played Salman Rushdie on "Seinfeld," Judge Swan on "Ally McBeal," a dark priest on "Charmed," and Ali Nissir, the Qumari United Nation's Ambassador, on "The West Wing."  Indeed, there are likely few avid fans of the big and little screens who haven't seen Tony Amendola perform.  Among his film and television credits are performances in "Dragon Quest," "Blow," "The Cradle Will Rock," "The Cisco Kid," "Alias," "The Practice," "The X-Files," "Star Trek: Voyager," and "Judging Amy."
Gracy Brown (1998)
A former president of the Crescent Players, Gracy Brown has worked on many productions with The Godlight Theatre Company, which was founded by alumnus Joe Tantalo.  Brown performed her first professional role in "The Good Person of New Haven," at the Long Wharf Theatre, playing multiple parts and understudying and performing the lead.  She went on to work at the Cornerstone Theater Company, performing in "For Here or To Go?" at the Mark Taper Forum and playing the adult Wendy in "Peter Pan."
Carleigh Cappetta (2008)
Theater has become an integral -- and integrated -- part of life for this versatile young professional.  At Southern, Cappetta earned dual degrees in elementary education and theatre.  As a member of the Crescent Players, she assisted director William Elwood on the award-winning production of "Arsenic and Old Lace," which was showcased at the 2006-2007 Kennedy Center American College Theatre Festival.  She also received a LMDA/ATHE/KCACTF Dramaturgy Award Nomination for her work on Kathryn Schultz Miller's "A Thousand Cranes," and the Irene Ryan National Acting Scholarship Nomination for her role in Eduardo DeFellippe's "Saturday Sunday Monday."  In addition, she studied performance at Circle in the Square Theatre School and is the founder and co-director of The Cow Town Players Summer Theatre Camp in her hometown of North Branford, Conn.  She has brought all of her talents to bear on her current position as education associate for community-based programs at the Hartford Stage Company.
Norma Lee Chartoff (1980)
Norma Lee Chartoff has worked as a set designer and painter, prop designer, art director, production designer, casting and script consultant, adjunct professor, computer animator, and project manager.  She also has lent her talents to film, television, commercials, and theater.  She has co-owned Chartoff/Scott Studios with her husband, Chip Scott, since 1986.  She is the production designer of Theatreworks' "Haunted Hotel," an interactive amusement park event that is mounted by the New York City College of Technology.
R. Bruce Connelly (1971)
Hero to preschoolers everywhere (not to mention their caregivers!), R. Bruce Connelly has played Jim Henson's Muppet Dog, Barkley, on the Emmy Award-winning children's series "Sesame Street" for the past 14 years.  The New York City-based performer has earned extensive additional acting and directing credits.  Among his recent performances are title roles in "Uncle Vanya," "Scapino!," "The Man Who Came to Dinner," "The Music Man," and "The Matchmaker" at the Seven Angels Theatre in Waterbury.
Joanna Keylock (1991)
Following a move to New York City, Joanna Keylock received her first off-Broadway role in "Making Porn," playing "Jennifer" in an ensemble cast that the New York Times described as "flawless."  Currently living in Connecticut, Keylock is a member of the Theatre Artists Workshop in Norwalk.  She also appeared in "Spider Hold" at the Nuyorican Poets Cafe in New York City, performing a role fine-tuned by playwright and director Fred Stroppel to accommodate Keylock's pregnancy.  She also appeared in "Guiding Light."
Laura Jean Kirk (1994)
Acting is sometimes a family affair for Laura Jean Kirk who appeared in the national tour of the Pulitzer Prize-winning play "Wit" with Judith Light.  Kirk also toured with "To Kill A Mockingbird," and appeared in numerous regional productions, including "Courage," at the MCC Theater, "Wit" at the Ordway Center for the Performing Arts in St. Paul, Minn., and "A Midsummer Night's Dream," with New Haven's Elm Shakespeare Company.  Kirk also was a featured voice-over in the documentary film "into the Fire."
Dan Lauria (1970)
"I wouldn't be an actor today if it wasn't for the Crescent Players and Constance Welch," notes Dan Lauria.  "She overheard me telling a joke on the football field one day.  She needed a big, ugly guy to play Caliban in Shakespeare's 'The Tempest.'  I was cast and I've been acting ever since."  Having catapulted to fame as TV dad "Jack Arnold" on the Emmy-Award-winning ABC series "The Wonder Years," Lauria has enjoyed a successful career as an actor, director, and playwright.  He established the Playwrights Kitchen Ensemble in 1989 with Ken Kaufman and Tom Patchett to nurture and support new writers.
Janet Sarno (1955)
One of the first members of the Crescent Players, Janet Sarno has had a strong career, appearing in film, television, and theater.  Sarno, who went on to earn her master's degree at Yale School of Drama, has appeared on Broadway in "The Apple Doesn't Fall...," "Knockout," "Equus," and "Dylan."  She also has appeared in numberous films, among them, "Requiem for a Dream" with Ellen Burstyn, "The Hospital" with George C. Scott. "The People Next Door," with Julie Harris, and "Gorp" with Rosanna Arquette.
Semina De Laurentis
Having built a successful acting career on the West Coast, Semina De Laurentis, '71, returned to her hometown of Waterbury, Conn., with a mission: to establish a professional theater in the area. Inspiration became reality when De Laurentis took the helm as the artistic and managing director of the Waterbury-based Seven Angels Theatre, named in honor of the seven family and friends who founded it. Today, Seven Angels is 14 years old, drawing some 50,000 people to its 200 performances each year. In 1999 the Connecticut Critics Circle presented De Laurentis with the prestigious Tom Killen Award for her artistic direction of the theater and for her extensive community outreach efforts.
Alumni
Abby Boone: 2011, Worked at Weston Playhouse, works at The North Shore Music Theatre including productions of King and I, Legally Blonde and A Christmas Carol.
Laura Folker: 2008, Development manager at International Festival of Arts & Ideas.  2011, Events coordinator at the Carol Autorino Center for the Arts and Humanities at Saint Joseph College.
Carleigh Cappetta: 2009, Education Associate for Community Based Programs at Hartford Stage.  2011, Director of Youth Programs at Manchester Community College. 
Janine Pixley: 2011, Producing fellow for the Oregon Shakespeare Festival.
Erik Stocklin: 2010, Played Loudmouth in the TV series Krog. Played Gregg in the TV series First Day.  2011, played Stevie in the TV series The Vampire Diaries. Played Thomas in the movie Donner Pass. Played Ben in the movie Nesting.
Akintunde Sogunro:  2009, Actor in A Civil War Christmas at New Haven Theatre Co.  2011, played Ensemble/Executioner in Three Musketeers at CT Free Shakespeare Co., Played Abhorsen in Measure for Measure at Elm Shakespeare Co., Played Kumo in Benito Cereno at Horizon Theatre Rep., Played Actor 1 in Give Us Free at Collective Consciousness Theatre Co.
Jenna Sisson: 2008, Merry-Go-round Playhouse in Auburn, NY.  2009, Weathervane Theatre.  2011, played Alice in Alice in Wonderland at Books of Wonder/Alice's Teacup.  Member of the sketch group "Anti-Social Wife". 
Michael Skinner: 2011, MFA at Yale School of Drama, freelance sound designer.
Joe Dlugos: 2011, Residence Hall Director at Concordia College in Moorhead, MN.
Molly Leona: 2011, Actress in Play With Matches at A Broken Umbrella Theatre.
Dean Palmer Jr.: 2011, Event Lighting Technician at ATR/Treehouse in Providence, RI.
Kazamir Bdzyra: 2009, Hartford Stage.
Bethany Fitzgerald: 2009, CPTV, Ivoryton Theater and actress in The Happy Prince at Long Wharf Theater.
Victoria Church: 2009, Ivoryton Theater.
Bill Adams:  2009, Foote School, Christmas Caroling, Goodspeed Opera House.
Matthew Pellegrino:  2009, Long Wharf Theatre.
Brent Barker:  2009, Red Noir, The Living Theatre, NYC.
Dan Gookin:  2009, Master Electrician at Long Wharf Theatre.
Jesse Gabbard:  2009, Actor in The Happy Prince at Long Wharf Theatre.
Bill Ruth:  2009, provided original music and live Foley for The Happy Prince at Long Wharf Theatre.
Samantha Benson: 2008, Production intern and assistant stage manager at Ivoryton Playhouse.  2009, Arts and Ideas at Goodspeed Opera House.
Kate Robards: 2008, Intern and assistant to Anna Deveare Smith at Long Wharf Theatre.  2009, Warddrobe supervisor at Long Wharf Theatre
Robert Schultz and Carleigh Cappetta: 2008, Cow Town Players Summer Theatre Camp in North Branford.
Autumn Henry: 2006 - 2008, The Circle in the Square two year professional acting program.
Darragh B. Garvey: 2008, Actress for the Long Warf Theatre Stage II.  2009, Casting intern at Long Wharf Theatre.
Stephanie Peters: 2008, Wes Craven film 25/8.
Craig Burns: 2008, Assistant master electrician at Weston Playhouse.
Matthew Griffith: 2008, Production of Back to the 80's at Whitney Players.  2009, Assistant director at Ivoryton.
Alexandra Gil: 2008, Canvasser for Grassroots Campaign Democratic party at New Haven office.
Josh Wills: 2008, Actor for the Elm Shakespeare Company.  2009, Hartford Stage and actor in The Happy Prince at Long Wharf Theatre.
Mike Altieri: 2008, Technical work at Ash Lawn Opera Festival.
Marissa Iadevaia-Jalbert: 2008, Cabaret space production stage manager at Millbrook Playhouse.
Alisha Martindale: 2008, Ensemble and costumes for the production of Back to the '80s at Whitney Players.
Jamie Steffen: 2008, Mainstage assistant stage manager at Papermill Playhouse.  2009, Stage Manager for The Happy Prince at Long Wharf Theater.
Amy Bouchard: 2008, Education Department at Beardsley Zoo.
Michael Bolinski: 2007, Director at the Thomaston Opera House.
Raphael Massie, Erik Stocklin, Michael Lombardi: 2007, Actors for the Elm Shakespeare Company.
Krystelle L. Cino: 2007, Ivoryton Playhouse.
Rebecca Welles: 2008, BA in Theatre and Psychology.  Working in costume shop at Yale. Receiving MFA from Yale in Design May 2012.  Will be freelancing as a costume designer out of NYC upon graduation.