Engagement: Business Students Put Learning Into Practice for Shelton Company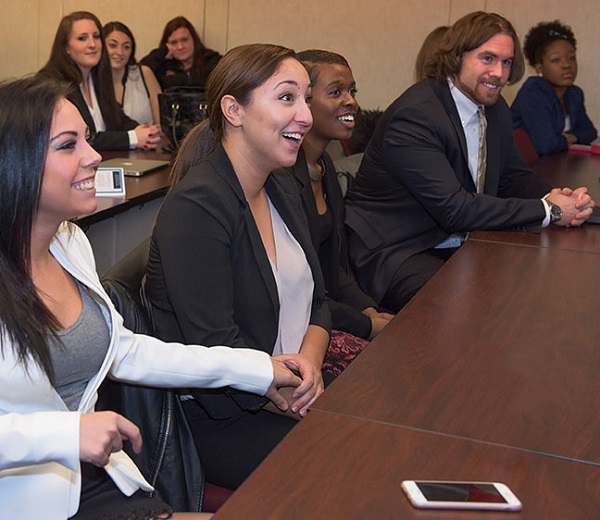 Southern faculty and students engage with the business and non-profit communities on a regular basis through problem-based learning initiatives, community service, and classroom speaking opportunities. This engagement allows students to put into practice what they are learning in the classroom, while collaborating with business leaders and impacting their businesses.
It was a simple suggestion that grabbed the attention of Bing Carbone, president of Modern Plastics as he pondered the feasibility of marketing a low-margin product as potential opportunity to incrementally increase annual sales. If he hired someone for just six hours a week to update social media accounts, brand recognition would rise and marketing costs would drop. That nugget of advice – backed by solid market research – came not from a high priced consultant but from a group of five business-minded Southern students.
The presentation was a culmination of a semester-long project aimed at giving students a real-life experience in the business world. Students researched ways Modern Plastics could tap back into the Plexiglas and
polycarbonate market, two areas that they had shifted away from. Each team was invited to pitch their ideas to Carbone. The winning team suggested numerous ways the company could increase sales by stepping up its online presence – using blogs, targeted ads, discounts and promotions, and more frequent and engaging Facebook posts. As a result of this experience, Brielle Gristini, '16, a business student on the winning team, recently accepted a position as a media marketing director with Laird Plastics, Modern Plastics' parent company.
"I was blown away. I've been to other presentations and have been thoroughly disappointed. These students approached the problem with fresh ideas and a youthful perspective. They hit the nail on the head with things I ought to be doing. I feel I could implement their ideas tomorrow."
Bing Carbone
President, Modern Plastics