Impact: School of Business Provides Forums for Professional Growth and Networking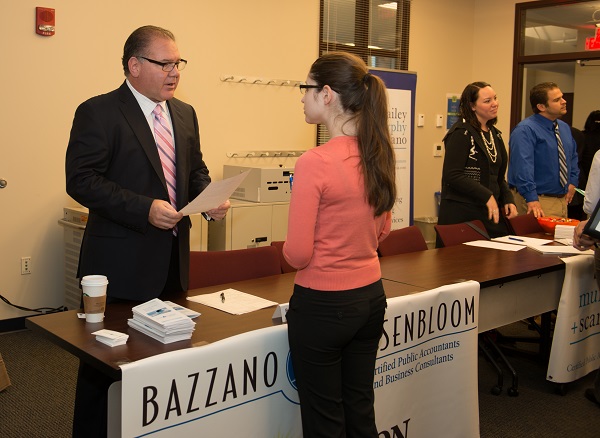 Throughout the academic year the School of Business, through its Business Success Center, coordinates and supports opportunities for students to work on personal and academic aspects of career exploration and development outside the classroom. Students are very interested in refining their soft skills, as well as practical skills learned in the classroom. Faculty members support their students' attendance at the professional development seminars by linking business core courses to each event and by providing incentives for students to attend.
Students participate in professional development programs and events to help transition them into becoming employed, degree-holding professionals. From resume reviews, guest speaker series, business case competitions, business etiquette, mock interviews, to internship and career fairs, the School of Business joins efforts with faculty and industry experts to provide forums for professional growth and networking.
Presenters are corporate professionals who bring a real-life perspective to the seminars, and who share their expertise with students. These events have brought over 500 business school students together for professional development outside the classroom. Students attending the workshops gain knowledge and valuable skills that will help them market themselves to potential employers and to prepare them to enter the business world.
"Initially, the professional development series evolved out of the School of Business's AACSB accreditation application process. The school formed the student engagement committee and charged it with developing a series of professional development events for students. Through trial and error and a lot of student feedback, the committee developed a business model for the professional development series that benefits both students and faculty."
Carol Stewart, Ph.D.
Assistant Professor, Department of Management/MIS