Just days prior to the fall semester, Southern welcomes first-year and transfer students to prepare for an exciting new semester. Through critical conversations, engaging programs and spirited social events students will be ready to launch into their first semester at Southern.
Please note that all first-year students are expected to attend New Owl Welcome. Transfer students are not required but are encouraged to participate.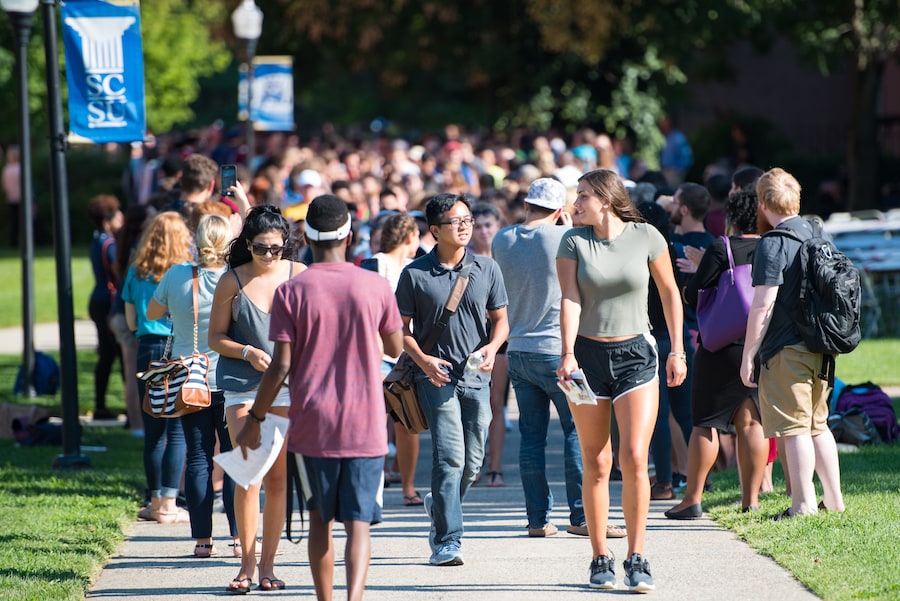 New Owl Welcome 2021 Dates
Update August 20, 2021:
Hurricane Henri is projected to bring heavy rain and high winds into Connecticut on Sunday into Monday, and as a result this will impact Southern's opening activities and New Student move-in schedule early next week. 
New (First-Year and Transfer) Students
New Student Move-In Day, originally scheduled for Monday, (August 23), will now take place on Tuesday (August 24), starting at 9 a.m. New students who had selected a move-in time for Monday will keep that same time frame for Tuesday.  Those who need to select a different new move-in time should contact the Office of Residence Life at reslife@southernct.edu, indicating a preferred move-in time between 9 a.m. and 4 p.m.  
New Owl Welcome activities for first-year students are canceled for Tuesday but will continue on Wednesday (August 25) from 12:30 to 6 p.m., as per the original schedule. 
Transfer students scheduled to participate in Monday's Transfermation Program will be contacted separately. 
Sophomore Students
The move-in schedule for sophomores on Tuesday remains unchanged.  Sophomore Start-Up events will be held as scheduled on Wednesday from 10 a.m. to 6 p.m.
Tuesday, August 24 (rescheduled date)
New Student Move-in Day (New First-Year Students and Transfer Students)
This exciting day begins with students moving into their new homes! In the evening, celebrate the start of this journey! The Office of Residence Life will share information regarding move-in times and process.
Tuesday, August 24 (canceled)
All First-Year Students (Required)
Time: 9am to 5pm
Commuter students should check in at the NOW Welcome Tent in front of the Wintergreen Building between 9am and 9:45am. 
Residential students should report directly to their OwLC Room (Owl Learning Community Room) which can be found by through this website. Please note that this will not be live until Monday, August 23rd. 
       
Wednesday, August 25th
All First-Year Students (Required)
Time: 12:30pm to 5pm
While the times are still being finalized, all first-year students (resident and commuter) will spend the day learning how to be a successful Owl in their first semester in beyond.
    
All Sophomores- Resident and Commuter (Strongly Encouraged)
Time: 9am- 5pm
This fun-filled day will include the opportunity to meet new people, learn about opportunities for involvement, and get a jumpstart on your 2nd year.
Thursday, August 26th
First Day of Classes