Orientation for First-Year Students (Freshmen) is designed to assist incoming students as they acclimate to college life at Southern, learn about academic advising and course registration, become familiar with the number of resources that support student success, and meet their peers.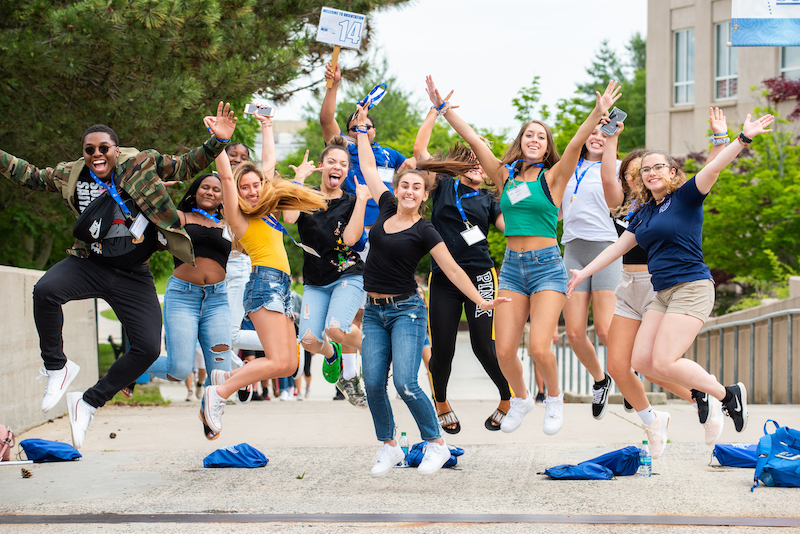 The summer orientation program is informative, helpful, and full of Southern spirit! Orientation begins with summer/winter orientation sessions and New Owl Welcome (the days leading up to the first day of class) and continues throughout the first year with extended orientation experiences, varying programs, experiences, and through partnerships with the First-Year Experience Program.
New Student Orientation Blue Book
Program Goals
Begin to make social connections with their peers.
Participate in a group academic advising presentation with an Academic Advisor.
Meet with an Academic Advisor for individual advisement.
Register for first semester courses.
Learn how to prepare for the first semester. 
Meet Orientation Ambassadors.
Learn about valuable resources necessary for academic, personal, and career success.
Begin to understand Southern technology that will be important throughout a college career.
---
Fall 2022 Summer Orientation Sessions for First-Year Students
Orientation, Transition & Family Engagement is excited to begin registration for the Summer 2022 Orientation Sessions. First-year Students (freshmen) who will be attending Southern Connecticut State University in the Fall of 2022 must attend orientation in order to receive advisement and register for their Fall 2022 classes. These two-day overnight sessions are intentionally designed with activities, programs, and immersive experiences to help students prepare for success. Students will be expected to check in for the day by 9 a.m., are required to stay overnight*, and stay until the end of the program which will conclude on the second day at 5 p.m.  
*If students are traveling from a distance and need additional overnight accommodations or if a student has any concerns, please email orientation@southernct.edu with requests or questions.
Parent and Family Orientation
Parent and Family Orientation will take place from 8 a.m. - 5 p.m. on the first day of each session. Family members will participate in their own track of programs and activities separate from students designed to help them learn more about how to support their students over the summer, in the first semester, and throughout their college careers. Registration for Parent and Family Orientation is part of the student registration form.
Orientation Sessions
Wed., June 15 and Thurs., June 16, 2022
Mon., June 20 and Tues., June 21, 2022
Thurs., June 23 and Fri., June 24, 2022
Sun., June 26 and Mon., June 27, 2022
Wed., June 29 and Thurs., June 30, 2022
Please note that all of our June sessions have reached capacity. At this time, students should register for the mid-summer session to be held on July 26th. Students who are no longer able to attend their June session should email orientation@southernct.edu to cancel.  
How to Schedule an Orientation Session
Select your Orientation Session.
Use your Admissions Portal credentials to log in and complete the registration form.
Once you have registered, you will receive a confirmation email to your personal and Southern email address.
How to Prepare for Orientation
Continue to visit the Next Steps page
Register for an Orientation Session.
Establish your Academic Placement as soon as possible.
Learn how to check SCSU email
Understand the COVID protocols
Upload your picture for your student ID
Follow orientation on social media
Know what to bring
All first-year students (full-time and part-time) must establish a placement level in English and Mathematics before they can register for Fall semester courses..
Students should visit Academic Placement for New First-Year Students as soon as possible to learn more and to begin the process of establishing their academic placement.
Students will continue to receive information to their personal email address until they attend orientation. However, it is extremely important that they are checking their Southern email regularly as well for important information. Visit Next Steps and click on "Set-up your SCSU Email Account" for more information.
Students will receive an email for the SCSU Card Office with a unique link to upload their picture to the system. In order to guarantee receiving a Student ID (Hoot Loot) at orientation, students must upload your picture.
All new students are enrolled in Digital Orientation which can be accessed via Blackboard (MySCSU > Blackboard > Organizations > Digital Orientation). This asynchronous platform is specifically designed to complement virtual and in-person programs. Through Digital Orientation, students can learn more about the resources and opportunities available to students. New students will be enrolled in segments once they have been registered for courses.
SCSU email address, email password, Student ID number, and MySCSU password. These are important for different portions of New Student Orientation.
An electronic device (laptop, tablet if possible). We will have a limited number to loan students for the day.
Comfortable dress and walking shoes. Approximately half of the day will be spent outside so please prepare for the weather.
A light breakfast, lunch and snacks will be provided at no cost. We recommend bringing extra beverages and a water bottle.