Please bookmark this page to keep posted on latest happenings. If you are interested in adding your event to the calendar, please send an email to stem-ri@southernct.edu.
Upcoming Events that may be of interest to STEM students:
More Information on Annual Events: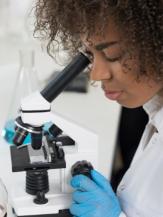 Bioscience Career Forum
Southern Connecticut State University, The Connecticut State Colleges and Universities, and the Jackson Laboratory invite you to the event, Bioscience Careers Forum CONNECTICUT Shaping the Future of Healthcare: The Role of Innovation in Rapid Technology Development.
Get perspectives from industry leaders.
Learn about exciting career and educational opportunities in bioscience, technology, and related business ventures.
Develop tools for landing a job, and networking skills for professional development.
Undergraduate Research and Creativity Conference
Undergraduates at any level who have been working on a project over the past year are encouraged to present either a short talk, roundtable discussion, or a poster describing their work. Creative works including art installations, theatrical performances, and music, will also be presented. The day will celebrate the many kinds of research and creative activity that our undergraduates have done this year!
Graduate Research and Creativity Conference
This conference was created to highlight graduate student research, help students gain professional development experience, and to form an interdisciplinary community among SCSU graduate students and faculty. The presentations highlighted in this conference demonstrate the diverse scope of subjects engaged by students from many disciplines.
Materials and Manufacturing Summer Teacher's Institute 
This professional development workshop is designed to acquaint teachers with real-life applications of STEM skills in today's manufacturing environment.
Teachers will learn about current demands in the manufacturing industry – and consider how to prepare students with the skills to meet these demands - by networking with other STEM educators from across the state, CEOs of local companies, and members of the Connecticut Department of Education.
The workshop will be in-person at SCSU and will include virtual tours of area manufacturing facilities, including Assa Abloy.