Southern School of Business students are provided with a strong academic foundation, which is enhanced by our MyCareerDevelopment program in the Business Success Center that addresses the soft skills demanded by employers.
The program is developed in a collaborative manner with guidance and input from the Business Advisory Council and the Student Engagement Committee, comprised of Student Leadership, faculty, and staff. Local industry experts are brought in as presenters; some of the annual events include: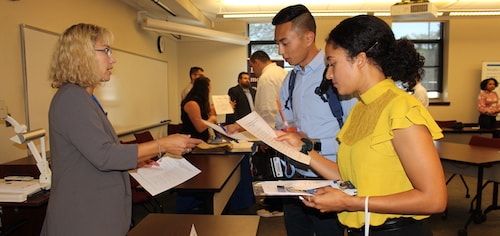 Accounting and Finance Career Fair
SCSU business students attend the Accounting and Finance Career Fair each fall to encourage them to begin networking and connecting with organizations looking to hire students upon graduation.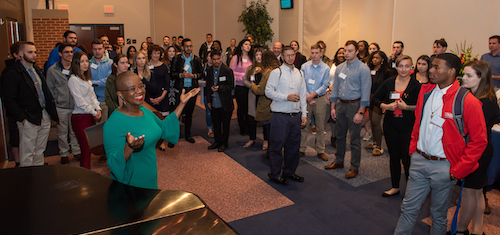 Business Etiquette Dinner
This annual event, attended by over 150 students, provides the opportunity to practicing networking and professional dining in a real-life situation, SCSU students can become more comfortable in the situations they'll encounter in the workforce as well as in their personal lives.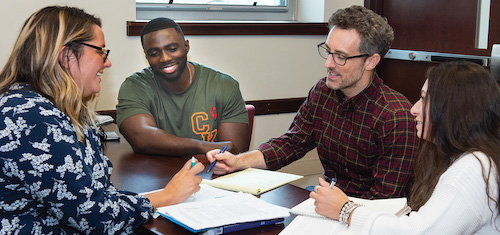 Mock Interview Day
Members of the business community join School of Business faculty and staff to conduct mock interviews with students. This annual event is currently conducted virtually, providing students with the opportunity to interview in a format that is becoming more prevalent.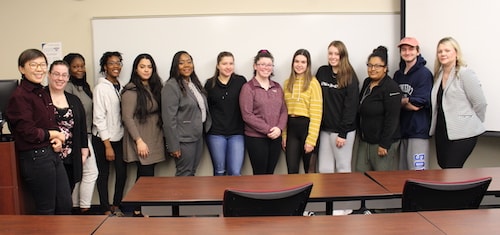 The Women's Mentoring and Leadership program, offered through the generous funding of Lindy Lee Gold, provices women business students the opportunity to grow themselves, connect with each other, and meet and hear from successful business women. The program includes seminars and workshops covering topics like networking, leadership, negotiations, and etiquette; and includes one-on-one coaching and a one credit leadership seminar course.
Employer Panel Presentation
Nearly 150 SCSU School of Business students took advantage of the most recent My Career Development Seminar, moderated by recent Management graduate, Michael Agyeman, '20, to hear directly from an expert panel of local employers on the topic "Get Hired: How to Prepare for an Interview," providing a great discussion that gave our students insights they can carry with them into their future interviews.