At Southern, we are committed to academic excellence, access, social justice, and service for the public good. As part of this mission, we support our home and nearby communities by providing educational opportunities and pathways to academic and personal success for New Haven, Waterbury, and Hartford Promise Scholars. Together, we aim to transform thousands of lives through an integrated and holistic approach to achieving post-secondary education goals and aspirations.
Our Promise Scholars Partnerships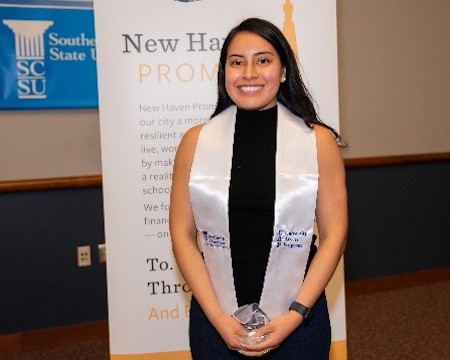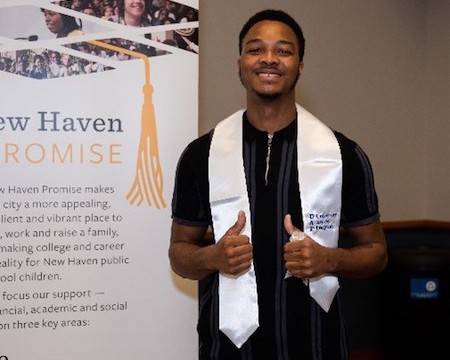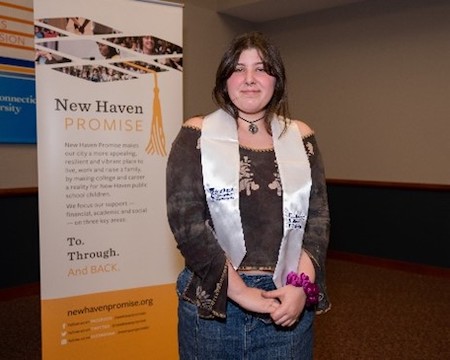 New Haven Promise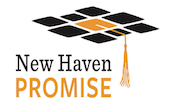 New Haven Promise was created in 2010 to build a college-going, talent, and civic-launch culture throughout New Haven, in which city students from the public schools aspire to attend and graduate from college and return to become active and employed New Haven citizens. As of June 2023, New Haven Promise has awarded $29,000,000 in scholarships, over 1,000 earned bachelor's degrees, and has a four-year graduation rate that outpaces the national average in every demographic. With 87% of Scholars returning to the region after college graduation, Southern is proud to be a partner institution. The New Haven Promise impact at Southern reflects $4.65 million in scholarship disbursement for 687 recipients, of which 273 have earned a bachelor's degree!
Waterbury Promise

Waterbury Promise was created in 2022 to help talented Waterbury students attend college. The Waterbury Scholarship helps eliminate financial barriers, strengthens the college-going culture in Waterbury public schools, and provides essential support to ensure college success. Waterbury Promise provides eligible scholars up to $20,000 in financial aid to attend any accredited Connecticut-based school or university as the last-dollar scholarship. Southern is thrilled to partner with Waterbury to help students achieve their bachelor's degrees and transform their lives and community!
Hartford Promise

Hartford Promise is a large-scale college scholarship and success program for Hartford Public School Students. Hartford Promise has provided $8.2 million in scholarships to over 1000 students who have attended more than 90 colleges! Fall 2023 yields the most significant number of Hartford Promise students who chose Southern, and we are ready and excited to help them achieve their goals and aspirations to earn a bachelor's degree.
Benefits of Southern Promise
Promise Advocates 
The Southern Promise Scholars Program has many benefits. Each scholar has an Advocate who serves as a success coach and mentor. Advocates make their first connections with students during the summer welcome event and again in the first two weeks of each semester. Through bi-weekly 1:1 and monthly group meetings, Advocates help students navigate the university, chart their academic paths, and manage personal challenges.
Southern Summer Institute
Promise Scholars receive a special invitation to attend the Southern Summer Institute. The Summer Institute prepares incoming Owls to succeed and excel during their first semester of college and beyond. This FREE in-person program offers first-year students the opportunity to learn critical academic skills & strategies, prepare for the rigors of college-level courses, and foster & develop a sense of community on campus. Students may also be able to place into a HIGHER math course in the fall semester! 
A Shared Sense of Community
To kick off each new academic year, the university hosts a Southern Promise welcome reception for students and families to connect with peers, faculty, and staff from the Southern community. Each year concludes with a Southern Promise Scholars Celebration for students and families, where we recognize student success, listen to student testimony, and distinguish each class with a special ceremony and gift.