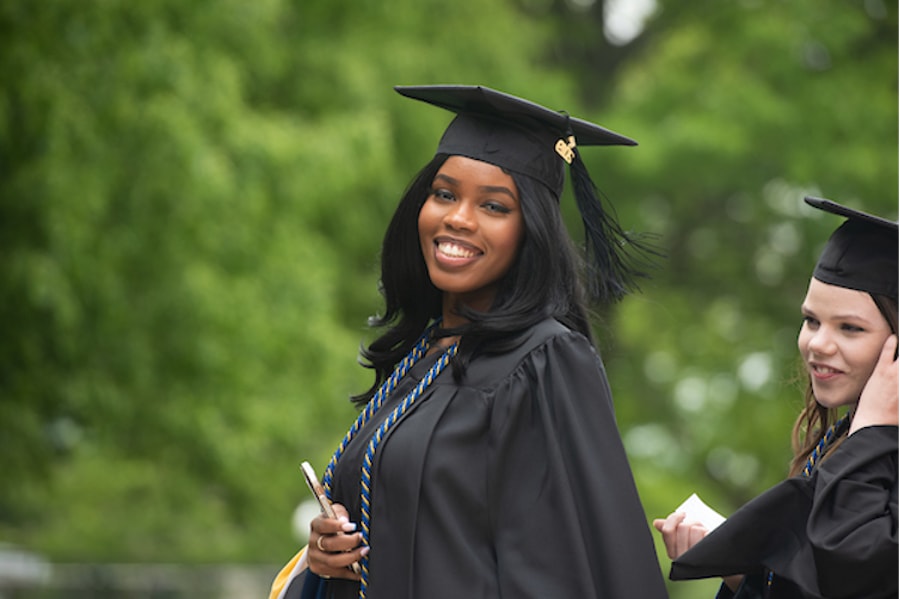 All applicants for graduate study are required to submit their applications online. A $50 application fee must be submitted before your application will be considered complete.
Create an Account
Access the online application and follow prompts to create a username and password. If you have already received information from Southern Connecticut State University (SCSU) then use the "forgot your User Name or Password?" link to access your account.
Complete and Submit Your Application
Complete each section of the application thoroughly. Click the "Save and Continue" button at the bottom of each page to save your progress. Required questions are marked with an asterisk. Applicants may view the status of their applications through the Graduate Admissions Portal. You will see a confirmation page and receive a confirmation email once your application has been submitted successfully.
You may request an appointment with the MBA Director after you have been notified that your application file is complete.
You must submit all following documents:
Two (2) letters of recommendation from a supervisor/professor attesting to the candidate's (a) personal integrity, (b) leadership potential, (c) ability to work independently and as a member of a team.
Official transcripts (from all previously attended undergraduate and graduate programs, even if you took only one course in a community college or university).
A 500-word personal statement explaining why you want to pursue an MBA.
GMAT or GRE scores as required. (You do not have to take the GMAT if your undergraduate GPA was 3.0 or higher.
GMAT : http://www.mba.com 
Our School code is 3662
GRE : http://www.ets.org/gre/
Recommendation Forms
When you fill out your application, you will be asked to provide contact information for those individuals providing recommendations. An automatic email will be sent to them with a link to use to upload your recommendation(s). No letters of recommendation are to be mailed or emailed to us. You may change/remind your recommenders through the Graduate Admissions Portal.
Official Transcripts
Graduate students are required to submit official transcripts from each institution attended. To be considered official, we must receive the transcript directly from the institution (excluding international transcripts) either by mail or through electronic delivery. SCSU requires official transcripts of all previous academic work from every college or university attended from which overall undergraduate and graduate grade point averages can be calculated. The cumulative grade point average for all undergraduate courses at each institution will be used in the calculation of the undergraduate grade point average. The same process of considering grades of all graduate courses is used to calculate the overall graduate grade point average.
Applicants applying to Southern's graduate programs, who participated in a Southern-supported study-abroad program while enrolled as an undergraduate, may have their international credit evaluated by the Office of International Education, in lieu of having a transcript evaluation performed by a NACES member evaluation agency.
For documents that require a signature for receipt, e.g., FedEx-ed documents due to deadlines, send to:
Southern Connecticut State University
Office of Graduate Admissions 
501 Crescent Street
New Haven, CT 06515
For institutions that send e-Transcripts via Parchment, eScrip-Safe or Clearinghouse, send to: graddocs@southernct.edu
Other Documents (Letter of Intent,  Alien Registration Card)
These documents may be uploaded directly through the Portal once your application has been submitted. Resident aliens must provide a copy of their alien registration card to the Office of Graduate Admissions or upload a copy (both sides) through the Graduate Admissions Portal.
Decision Letter
After your application is complete, the MBA Director will review and make a recommendation for admission if you are eligible. After that, Graduate Admissions will render a final decision. All admitted students must indicate their acceptance of their admission to the university. Students who are admitted but do not register for courses for the term for which they are admitted will be automatically withdrawn and must reapply.
Applicants who wish their applications to be considered for a future term, up to a year from the term of the original application, may request in writing to graddocs@southernct.edu that their application and materials be moved forward. This request must be made no later than the first day of classes for the original term.
International Students
Please visit International Education.
Any transcript issued from a university outside of the United States must be evaluated by an evaluation agency before sending it to Graduate Office. We currently accept evaluations of foreign transcripts and credentials (course-by-course with grades) from the following agencies: http://www.wes.org. ; http://gceus.com; http://jsilny.com; https://www.ece.org/
International students whose national language is not English must take TOFEL and score a minimum of 550/80; please visit www.TOEFL.org for test and registration information.
The IELTS exam is one alternative for international students who are required to provide proof of English competency.  Students must achieve a score of 6 or higher.  You can learn more about and register for the IELTS test at www.ielts.org.